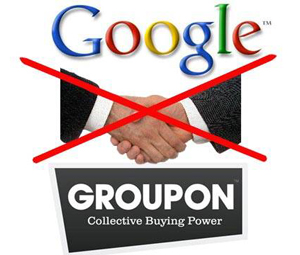 Groupon's CEO, 30-year old Andrew Mason, has just joined the Hall of Fame of Entrepreneurs that say no to a lot of money. Just like Facebook's Zuckerberg did to Yahoo! and MTV Networks just a few years ago, Groupon has declined the $6 billion offer from Google.
There are both supporters and critics of Groupon's snub to Google, but nobody can deny the fact that Groupon is experiencing amazing growth in sales and upward momentum in valuation.
According to Bloomberg Businessweek, Groupon had a valuation of about $1.3 billion in April 2010, after Digital Sky Technologies led a group that invested in the company. As of December 2010, Groupon has raised $170 million from investors, including Facebook backer Accel Partners and New Enterprise Associates.
Groupon is growing at an unprecedented rate and has been hiring about 150 people a month, mostly in sales, to enlist the local businesses that provide its more than 400 daily deals, President Rob Solomon said in an interview to Bloomberg Businessweek on early December 2010.
According to Compete, Groupon.com was visited by 1.8 million unique monthly visitors on November 2009 and 11.2 million in November 2010.
Close competitors of Groupon such as Amazon.com-backed LivingSocial are paying close attention to the offer from Google. Still, Groupon would continue to be the main target of bidders as Google Trends reports not only that more people google for the term "groupon" than for "livingsocial", but also that Groupon's news are the ones that dominate the Google news stream.
3 Replies

Leave a Reply