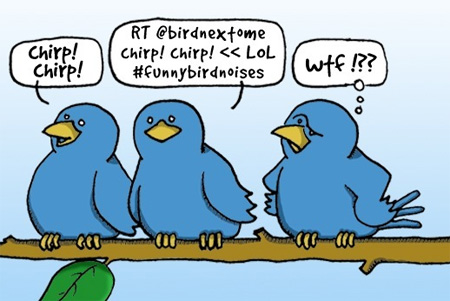 Twitter never stops. All day long, people are Tweeting their hearts out. Keeping up with it all while making sure you're maintaining the interest of your followers can be overwhelming. If you let it get to you, you'll get burnt out quickly.
Thankfully, there are some things you can do to avoid Twitter burnout. Start by following these tips, and feel free to add to the list by leaving a comment with your own tips.
Schedule your Tweets in advance—I know I'll probably get some flak for this, but I think it's a good idea to schedule certain types of Tweets in advance (link drops, for example). Doing this will lighten your load, meaning you don't have to be on Twitter posting updates all day long. Having said that, Twitter is an interactive tool, so you do need to commit time to interacting with your followers. By the way, FutureTweets is a good tool for scheduling your Tweets.
Limit the number of people you follow—The more people you follow, the more updates you'll be flooded with. If you're strapped for time, keeping up with a lot of followers can be almost impossible. Here's a suggestion: You can use tools like Tweetdeck to create groups and lists that you would like to pay special attention to. This will make it a little easier for you to keep up with the conversation and pay attention to those you are truly interested in.
Don't worry about missing out—Unless you plan on doing no work and you can stay up 24/7, you're going to miss things on Twitter. That's just how it is. You can't worry about missing out on key conversations; otherwise, Twitter will consume you. Just get on whenever you can, and make the most of the moments you're free to use Twitter.
Take a break—Recently, I took a technology cleanse for a weekend. It's something I recommend for everyone. We're just too connected. The Tweets, emails, status updates, and messages just never stop. Take a break and get away from it all for a little while. This will keep you sane, and it will keep you from getting sick of Twitter.
Don't get stressed when you lose followers—It's always important to know when people stop following you. If you lose a large amount of followers, it could be indicative that you're doing something wrong. However, you will lose followers here and there. That's just part of being on Twitter. If you're only occasionally losing followers, don't get worked up over it. It's not that big of a deal.
Have you ever dealt with Twitter burnout? How did you overcome it? Share your thoughts by leaving a comment.
Gerald Weber is blogger social media enthusiast and founder of a local Houston SEO firm.
22 Replies

Leave a Reply