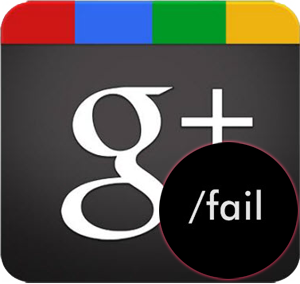 According to Paul Allen (founder of Ancestry.com) Google + surpassed 10 million users after only 2 weeks. These numbers may not be extremely accurate, but they seem to support the widely held belief that Google+ is gaining users quickly and it's hard to deny the buzz coming from the likes of Mashable, the Twitterverse and countless other marketing and SEO blogs.
But after the tech-heads have their way with the beta release, will all the initial hype translate into long-term success for Google? Possibly not and here are 3 reasons why :
1. Average Joe Webuser doesn't know about Google+!
With so many tech bloggers and early reviews praising Google+'s circles, and sleek design, it's easy to forget that those of us who are early adopters and social media geeks are a relatively small portion of users. Even if we early adopters think something is really cool, it doesn't mean the rest of the world will follow suit. In fact, outside my social circle of tech-heads, no one is talking about Google+. Seriously, no one, and If I bring it up in conversation, the response is usually, "Oh, is that Google's Facebook?" They don't know what it is. And, more importantly, they don't have any reason to join – which leads to point #2:
2. Average Joe is on Facebook and doesn't want / need another social network!
As much as we like to talk about the way that the entire world is super-jazzed about social media and always looking for new ways to connect with people, the reality is that most people joined Facebook because they were prodded into doing so by family and friends and probably check it once a day or a few times a week. The average social media user didn't weigh all the pros and cons of all the social networks on the internet and decided Facebook was the best. They simply joined because that's where all their friends and family were.
In fact, what surprised me the most when I cracked open by Google+ plus profile was how very few friends and family I saw in my potential circles list.
When you open up Google+ for the first time, Google mines your Gmail account to show you connections. The problem is, I never use Gmail to communicate with my friends; I use Facebook – and at this time I'm not ready to crack open my Facebook profile to Google's crawlers!
As a result, most of the people suggested to be in my circles by Google are business acquaintances, people I applied for jobs with, and any number of others whom I barely know or care to connect with on a social level. As soon as Average Joe gets on Google+ and realizes few of his real-life friends are active users, there's a good chance he'll be done right there.
3. Google ain't cool!
Google is kind of like your office IT manager. Sure, he's useful when there is something wrong with your computer and you might have a pleasant conversation in the break room, but the relationship ends there. You don't hang out after work because he's a bit socially awkward and you have no interest in LARPing with him on the weekends.
Google's brands are search and analytics. Pac-Man and Guitar doodles aside, Google's not generally thought of as cool or sexy–which is a huge factor in whether or not people will join their club.
Although Facebook is still considerably less cool than it was back before your mom joined, it's still a lot cooler than Google, mainly because you already know how it works and all your friends are already there.
Google + or Google – ?

It's not that Google didn't come up with a very slick social media platform or that Google+ doesn't have cool, useful functionality – it did and it does. Selectively sharing via circles, and the nice clean intuitive profile design are well-documented homeruns for Google+'s designers. It's just that battletested Facebook holds the high ground in this new looming battlefront.

Hordes of social media gurus, geeks and techies have taken the plunge into Google+, only to ask, "Where are all my Friends?"

The truth is, Avergae Joe Webuser has already invested time and effort into Facebook, where all his friends already hang out, where he's already uploaded all his pictures and videos, and where he already plays Farmville and uses Goodreads. In the coming battle for the hearts and minds of Facebook's users, Google may have forgotten the first rule of social media – you can't be social by yourself.

Greg Buckskin earns his living writing about everything from technology to pop culture for Comcast.USDirect.com. Follow his writings and random web finds on Twitter
27 Replies

Leave a Reply