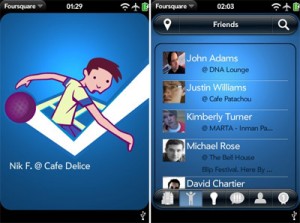 Foursquare has finally reached the milestone of one billion check-ins this week. The mobile app has had a continuous rise in popularity, and considering it was released in 2009, a substantial amount of activity has happened on the network.
For those who are not aware of the phenomenon that is Foursquare, it is a location based social network where you and your friends check in to locations and earn points. On top of the video-game-like atmosphere, businesses can also offer specials and rewards for the most loyal customers.
In celebration of the milestone achievement, they have mapped a week's worth of check-ins on to a world map, and the outcome can only be described as beautiful.
Foursquare has really come a long way since it was created, and as a comparison Foursquare hit 100 million check-ins 14 months ago. That means the activity has gone up roughly 1000% in a year, which is an amazing amount and clearly outlines just how much Foursquare is expanding.
So why is Foursquare growing so much? Besides the app itself, there are plenty of reasons for its expansion. One would be its updates in privacy settings which allow users to check in at home without displaying the actual address, which has been a huge concern for users of the service but has set many minds at rest since it has been resolved.
Another revolutionary feature is the self-service option, which actually allows businesses to claim their location, run offers and even use Foursquare as a loyalty program. This can not only be used for single shops but also huge chains. Starbucks is a great example of this, it would be near impossible to manage all of their coffee shops, but they can run offers and view how each store is doing through Foursquare. Not only is Foursquare a tool that businesses can use to get customers in the door, but it can also be a form of analytics that can help monitor their progress.
Foursquare is without a doubt sky rocketing with activity and there is no question that it is going to keep progressing, potentially at an even faster pace. It is safe to say that Foursquare can be used to reach out to new customers directly and another great feature is that it is free. Now its popularity has been finalized and it's been proven that it can become a hugely successful network.
Lewis Austin is the Social Media Marketer from SEO Positive he works closely with all forms of social networks, including Foursquare. tostay connected to Lewis, follow his blog or Twitter
6 Replies

Leave a Reply