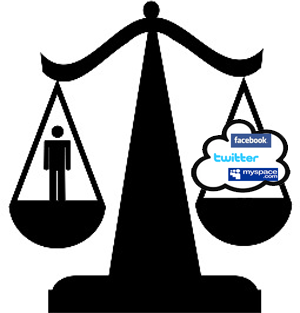 Considering the amount of revenue that popular social networking websites are making these days, it is hardly surprising that there a number of chancers out there attempt to get their hands on some of the dosh. That's not all however – social networking sites are providing plenty of avenues for people to sue other common folk too!
Twitter
Celebrity attempts to sue the increasingly popular micro blogging site Twitter have been fairly rife recently. N-Dubz singer Tulisa Contostavlos announced her plans to sue the site last week after its moderators refused to remove statements about her which she considered to be defamatory; citing free speech as the reason they wouldn't. Amongst the tweets that offended her so was the accusation that the lady hip-hopper took cocaine whilst pregnant. Rap global superstar Kanye West is known for his ongoing rocky relationship with Twitter, regularly getting irate in the wake of constant fake profiles being made under his name.
A cardiologist who once worked at the Deborah Heart and Lung Centre in New Jersey meanwhile, is being sued after it was discovered by the hospital after it was discovered that he had been anonymously posting defamatory comments regarding the hospital and charity on both Twitter and a blogging website.
Facebook
In other news, a Muslim man by the name of Mustafa Fteja is adamant that he is the victim of racial discrimination after Facebook recently deleted his account with no apparent reason, meaning that he lost hundreds of photos and "personal memories" and has therefore decided to sue to compensate his loss. He has valued the loss of each of his friend at a $1,600 value meaning the loss of his 340 Facebook friends could win him a more than comforting $500,000!
And who can forget the story of the woman banned from Facebook for sharing the name of the future princess (Kate Middleton)? Many advised her to take the case to court but her account was soon reinstated.
MySpace
This social network has lost its popularity recently but we can't ignore the influence it has also had in court cases. It was revealed last week that a New York college is being sued by one of its students after the establishment played a role in getting said student sectioned for concerns regarding her mental health. The student claimed that she was mentally stable but didn't help her cause by posting bulletins from her MySpace profile discussing how she wanted to disown her family and change her name. One of her bulletins stated:
"I am BY FAR SANER than any of you! I would GLADLY destroy it all to make sure YOU PAY."
Oooh er!
Kat Cole is a copywriter with a love of all things social media. She thinks that trying to sue a social networking websites which aid free speech is as pathetic as trying to make a claim for accident compensation when the reason for an accident lies with the injured themselves!
One Reply

Leave a Reply