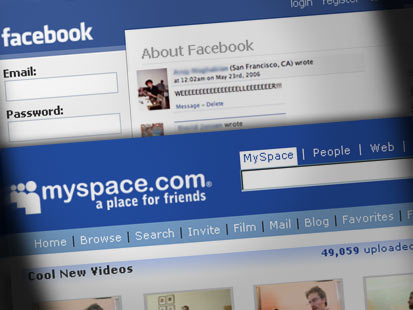 MySpace has been in the news lately – but mostly the news is bad. Massive layoffs have been announced again for the failing social site. In recent months, MySpace has attempted to make upgrades to cater to its remaining users. Bands and musicians in particular were still finding benefit with the site for promoting their music. However, with the large layoffs and the declining user sign-ins, it may signal the need for bands to promote elsewhere.
Facebook may be coming to rescue. A platform called Damntheeradio used to create Facebook fan pages was just picked up by FanBridge. FanBridge is a service that works with musicians to track and touch base with their fans through social media. FanBridge made the acquisition in an effort to break into Facebook as a strong resource for musicians and bands to build name recognition and popularity.
Facebook already has other applications suitable for band promotions. BandPage is a growing app musicians can use for promoting their name, music, and tour dates. To date more that 12.7 million user are active on a monthly basis.
Both companies of the apps have received investor funding and it is becoming apparent that more investors have plans to put more cash where they want music to be  – Facebook. The site, already wildly popular around the world, can be an excellent resource for up and coming musicians and bands looking for a fan base since so many users log in daily – even hourly.
Major label artists, including Lil Wayne, are also utilizing Facebook to their fan's benefit by releasing songs exclusively through their BandPage before they hit the mainstream market through iTunes.
3 Replies

Leave a Reply