Marketing with Instagram
Instagram seems to be one of the last social channels that has not yet been completely overtaken and saturated by brands. While plenty of brands currently use Instagram for marketing, there is still enough of a gap that your brand could jump in and be established before the network reached its saturation point.
Visual social media channels like Instagram are proving to be challenging for some brands, and this may be a cause behind the potential for adoption and successful utilization by lesser known brands or brands that have simply not bothered with Instagram until now. Despite the challenges the number of brands using Instagram for marketing is growing every day, so the time to act is now!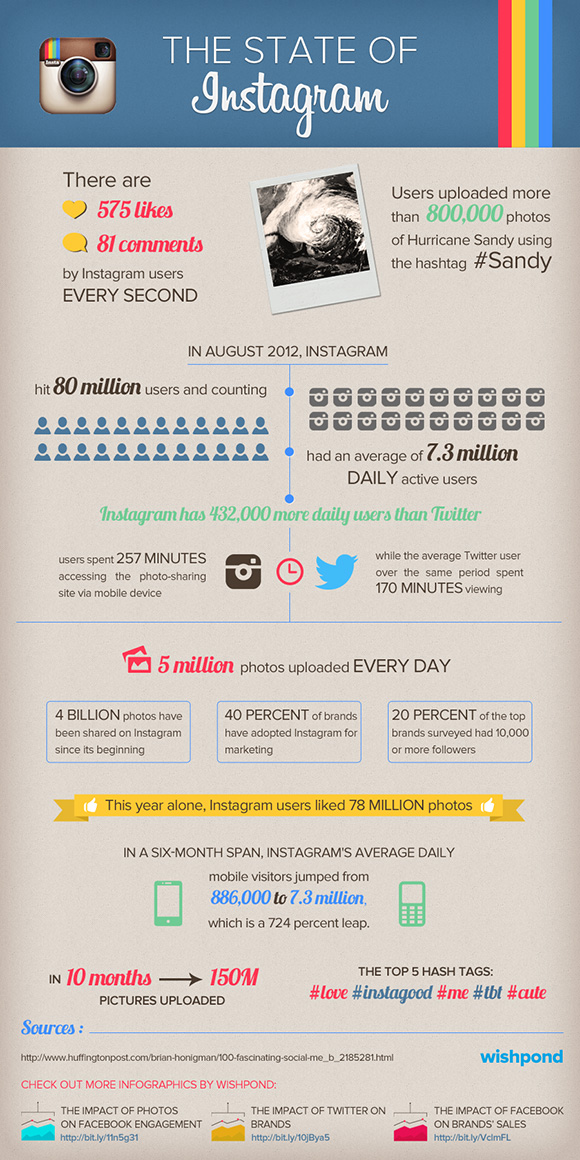 How the big brands do it

Brands are using Instagram more and more to promote their businesses by holding contests, organizing giveaways / raffles, and for raising brand awareness. By monitoring Instagram and incorporating it into an existing social media strategy, a brand can get visual insight into the likes and dislikes of its target audience. You can't get a much better visual than something posted to a visual social network!
The following types of brands have the best luck on Instagram:
Food / Drink
Entertainment
Hospitality
Design
Fashion
If your brand isn't one of these types, don't discount the potential of Instagram! Any business in any industry with relevant material to share can still thrive; even if a brand doesn't have much to post, if they have a product or service that people can photograph and publish with the brand tagged in the description the brand can still have plenty of activity and opportunities for engagement.
Benefits of Instagram for brands
Instagram is part of an ever-growing shift towards more visual content in social media. In fact, Instagram and Pinterest are touted as visual social media networks because of their focus on visuals over the traditional micro-blogging style text-based updates. Visual social media users can be encouraged to engage with a brand in a number of ways including taking their own brand-related images or by liking / commenting on / sharing branded images. By adding Instagram to an existing social media strategy a brand will be increasing the potential it has for being able to reach users where they are and engaging with them where they are most comfortable.
Video: Marketing Monday: Instagram
This particular social channel is also an excellent place to share calls to action. Yes the space you have to use might be a square that's a bit on the small side, but that's part of the challenge! Instagram can be used as a fun and exclusive way to share coupons, discount codes, and share information on sales and promotions. Want more people to visit your blog? Post a funny or interesting picture with a link to your blog in the comments and let people know why it would be a good idea to drop by and read what you have written.
Your takeaway
Instagram still has room for growth; if your brand isn't using Instagram, you should seriously consider it!
Thanks to the way it focuses on images, Instagram is a great way to humanize a brand and share branded images. You can also share unique calls to action and utilize Instagram as a promotional tool. Just make sure that you share some fun and interesting images as well or your brand might be ignored as being too focused on marketing. Yes, that's kind of the reason your brand is on Instagram, but that doesn't mean your marketing angle needs to be immediately and painfully obvious.
Instagram provides plenty of ways to make your content more interesting and attractive to fellow users. There are filters you can use to enhance your photos, you can use hashtags to categorize and draw attention to your posts, and you can even tag other users and have your photo appear in their feeds.
Overall Instagram has a lot of potential so head over and check it out, you might just find that it's a great fit for your brand!  For more information on social and digital marketing check out RankPop.
Featured images:
 

License: Royalty Free or iStock

 

source: shutterstock.com

 

License: Royalty Free or iStock

 

source: http://visual.ly/

 

License: Royalty Free or iStock

 

source: shutterstock.com
Kris Dietz
I love creating something amazing then spreading the word about it!  My mission is to develop and mold SEO into an amazing outlet of sharing valuable resources.   I enjoy networking and meeting like minded individuals.
One Reply

Leave a Reply