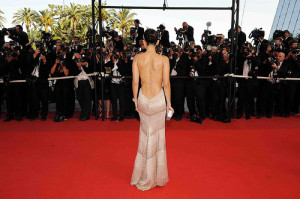 February is a month of numerous award shows, and although the Grammys, the Oscars, and other events are televised, watching from your couch wearing sweatpants doesn't make you feel like you are in the middle of the action.
Thankfully, there's Twitter. The social network gives you access into the entire preparation of an award show via your favorite stars: from getting ready to hitting the red carpet to accepting an award. The lives of Hollywood A-listers have never been more accessible. So if you haven't tried getting involved with social media yet this award season, add a little glamor to your Twitter account and join in on the Oscar conversation on February 24th.
Who to Follow
Start by selecting the right accounts to follow. For the Grammys When it comes to the Academy Awards, it appears that those in the movie business aren't as enthusiastic about Twitter as musicians. Of the 20 acting nominees this year, only two have legitimate accounts: Helen Hunt (@HelenHunt) and Hugh Jackman (@RealHughJackman). Don't be tricked by fan accounts, like @JennifLawrence_. As much as we'd all like to see Jennifer Lawrence's hilarious, down-to-earth interviews translated into 140-character updates, it's not happening.
However, many of the lesser-known nominees have accounts and could have fun insight into the glitz and glam of the Oscars. Take, for example, Shawn Christensen (@dreamsick) has been tweeting about his nominated short film, "Curfew."
During last year's Academy Awards, comedians like Norm McDonald (@normmcdonald) and Patton Oswald (@pattonoswald) riffed on the entire ceremony, and following similar accounts will add some necessary humor through the Oscars and Grammys – especially when those speeches get a little too long.
And don't forget about Seth MacFarlane (@SethMacFarlane). They can't have him on that Oscar stage forever.
If it's the fashion of the award shows that captures your interest, follow @e_FashionPolice or @redcarpet for constant updates. Celebrities will often tweet pictures of their gowns before the red carpet so you can get a looksee before any of the news agencies have the opportunity to broadcast them.
If you are more interested in the night's winnings without actually having to watch the award show, most entertainment sites or publications, like Entertainment Weekly (@EW) will have updates all night long.
Most Outrageous Tweets at an Awards Ceremony
Yes, it is true that sometimes celebrities don't know how to turn off their filter and can turn sexy into trashy in an instant. Whether you despise them or desire to be just like them, it is still entertaining to follow them on Twitter. Hopefully, the 2013 awards ceremonies will give us all something to laugh about long after it's over, much like last year. Check out the most outrageous tweets of the 2012 Academy Awards below:
"Throwing my annual Occult Oscar Orgy party 2nite. Food, music & random group sex with tons of hot ghosts. Special appearance by Bernie Mac!" – Dane Cook (@Danecook)
"Maya Rudolph says he's in awe at the amount of Shapewear she's wearing." – Roger Ebert (@ebertchicago)
"The only people who look in the mirror and think, 'Perfect!' are murderers and Bradley Cooper." – Kelly Oxford (@kellyoxford)
Join In
Joining in on the conversation on Twitter is a great way to directly connect with the sexiest stars in Hollywood. Follow your favorite celebrities. See what musicians and films other people are buzzing about (and take a look at the Twitter Oscar Index for updates on that buzz). Use a lot of hashtags, including #oscars. Finally, remember that nothing is more fun than being involved!
Diana Galloway is an expert in online marketing, and though she enjoys researching and writing about social media, she specializes in SEO services in Vancouver, Calgary, and other cities throughout Canada.
Image Credit: 1.
No Replies
Feel free to leave a reply using the form below!
Leave a Reply