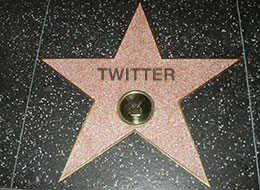 Twitter is the new phenomenon in social networking and the celebrities are definitely enjoying their direct dose of public adornment. Twitter has become a force to be reckoned with in our society because of the immediate response systems and the access to millions just 140 characters away. People are using Twitter more and more to mobilize people for their cause, if you have a lot of followers that translates into a lot of power without the traditional interference of media outlets and publicists.
There are as many celebrity Twitter lovers as there are haters as some celebrities are not comfortable being so up close with their fan base. To that end you will not probably see celebrities like Johnny Depp or Angelina Jolie joining the ranks of the twitter-philes. Here we have complied a list of 49 US celebs that have the most followers on their Twitter accounts along with an idea of what they like to tweet about, so you can join in the crowds… or not.
49. John McCain:
Senator John Mc Cain, best known for selecting Sarah Palin as his running mate for the 2008 presidential campaign is the only republican and politician (other then the President Barack Obama) to debut on the top 49 tweeting celebrities. His tweets as expected are geared towards his political views. Sen. Mc Cain is also the oldest celebrity in the top 49 list.
Twitter Handle: SenJohnMcCain
Followers: 1,732,543
48. Felicia Day:
Felicia Day is an actress with her major role in the hit TV series "Buffy the Vampire Slayer", in which she played a character called "Vi". Her true twitter fame comes from promoting her award winning web-series "The Guild".
Twitter Handle: feliciaday
Followers: 1,745,279
47. Giuliana Rancic:
The Savvy host of E! News with Ryan Seacrest is definitely a twitter-holic posting constantly from her routine life events to trivia and gossip related to her show. This is one twitter happy host that aims to entertain.
Twitter Handle: GiulianaRancic
Followers: 1,747,463
46. Tony Robbins:
Tony Robbins is an author and a motivational speaker to the movers and shakers of our culture and that is the source of his celebrity. His tweets are mostly motivational/self help tips.
Twitter Handle: tonyrobbins
Followers: 1,757,202
45. Brooke Burke:
Another E! and other popular TV show´s (DWTS) host, Brook Burke is known for her sex appeal combined with a sharp wit. Her tweets are mostly about her opinions on certain celebrity issues and lifestyles.
Twitter Handle: brookeburke
Followers: 1,755,372
44. Lenny Kravitz:
A fixture in our musical culture for over two decades now, Lenny Kravitz is a lengendary musical Artist. What does Lenny Kravitz like to tweet about? Well the most interesting person he knows, himself. He even created quite the controversy by posting a nude picture of himself on his Twitter account (May 11).
Twitter Handle: LennyKravitz
Followers: 1,766,108
43. Joel McHale:
Joel McHale the superstar of the new crop of stand up comedians and the host of the popular "The Soup" on E! Joel likes to keep his fans updated and entertained through his witty tweets about celebrities and what he is up to.
Twitter Handle: joelmchale
Followers: 1,769,244
42. Demetria Lovato:
Better known to the Disney channel enthusiasts as Demi Lovato, she is a singer and an actress who also happens to be a teen. Very popular among the young ones especially because she keeps it real with her tweets about her life with her current boyfriend Joe Jonas.
Twitter Handle: ddlovato
Followers: 1,780,111
41. John Legend:
The musical prodigy likes to tweet about his everyday life and causes he believes in.
Twitter Handle: johnlegend
Followers: 1,835,570
40. Selena Gomez:
Another famed Disney teen actress/singer known for her adorable nature and beauty. She likes to tweet about her everyday life and activities too.
Twitter Handle: selenagomez
Followers: 1,835,905
39. MC Hammer:
Dancer, Entertainer, Rapper known for his outrageous style and great musical chops. He likes to tweet about social causes like genocide prevention among some other mundane stuff.
Twitter Handle: MCHammer
Followers: 1,854,153
38. Sara Bareilles:
Another musical prodigy known for her singing and her pianist-ic skills, she loves to keep her fans updated on her tours and appearances and her life.
Twitter Handle: SaraBareilles
Followers: 1,855,160
37. Paris Hilton:
Notoriously famous for absolutely no talent other than looking "hot", Paris Hilton likes to tweet about her everyday activities the most.
Twitter Handle: ParisHilton
Followers: 1,878,556
36. Luciano Huck:
Luciano Huck is a huge celebrity of TV fame in Brazil and his tweets are usually aimed to please his audience with a mix of charm and humor about everyday life.
Twitter Handle: huckluciano
Followers: 1,894,633
35. Dr. Drew:
Dr. Drew from the program "Celebrity Rehab with Dr. Drew" likes to interact with his fans through Twitter and answer their queries regarding different topics.
Twitter Handle: drdrew
Followers: 1,911,016
34. Martha Stewart:
Martha Stewart, a name synonymous with household perfection. The entrepreneur likes to tweet about her daily life and routine and keeps her fans posted on any upcoming events on her show.
Twitter Handle: MarthaStewart
Followers: 1,922,509
33. Rainn Wilson
Rainn Wilson, is a comic actor famous for his role on "The Office" and the movie, "The Rocker". He tweets about any upcoming events that are of interest to his fans.
Twitter Handle: rainnwilson
Followers: 1,937,706
32. Mandy Moore:
The Singer, Songwriter and Actress likes to share her inspirations and her general life through her tweets.
Twitter Handle: TheMandyMoore
Followers: 1,937,706
31. Perez Hilton:
The famous blogger and TV personality Perez Hilton is a gossip machine delighting many fans through his honest tweets about celebrity antics and a whole lot of gossip.
Twitter Handle: PerezHilton
Followers: 1,969,580
30. Peter Wentz:
Peter or better known as Pete Wentz is a "famous" bassist for the band "Fall Out Boy" he likes to interact with his fans through his tweets and gives them a taste of the Punk-Rock lifestyle.
Twitter Handle: petewentz
Followers: 2,018,368
29. Tony Hawk:
The famed skating boarding dare devil likes to tweet about his up coming events and other promotional stuff like skate boarding gear.
Twitter Handle: tonyhawk
Followers: 2,092,962
28. Miley Cyrus:
The most famed of the Disney crop of Actresses and Singers Miley Cyrus plays the beloved "Hanna Montana". Her tweets revolve around her daily life, likes and dislikes.
Twitter Handle: mileycyrus
Followers: 2,114,814
27. Al Gore:
The Ex-politician turned environmental activist likes to tweet about new innovations in keeping it Green.
Twitter Handle: algore
Followers: 2,127,196
26. Lily Rose Allen:
The British singer, talk show host and actress likes to tweet about her life, like how her day is going and likes to keep it lose.
Twitter Handle: lilyroseallen
Followers: 2,130,097
25. Chelsea Handler:
The Author, Stand up comedian, actress and TV host is famous for her off the cuff tweets and open interaction with fans.
Twitter Handle: chelseahandler
Followers: 2,165,300
24. DeAndre Cortez Way
Better known as stage name Soulja Boy Tell 'Em, is a rapper and record producer who lies to "keep it real" on twitter with his followers.
Twitter Handle: SouljaBoy
Followers: 2,170,063
23. Ashlee Simpson Wentz:
Known best for her lip syncing debacle on SNL the singer/songwriter Ashlee Simpson likes to tweet about her life as a new mommy.
Twitter Handle: ashsimpsonwentz
Followers: 2,175,847
22. Justin Timblerlake:
The extremely popular singer, songwriter and actor likes to mix things up with his tweets, tweeting about literally anything that strikes his fancy.
Twitter Handle: Justin Timberlake
Followers: 2,184,504
21. Katy Perry:
The sarcastic singer Katy Perry likes to tweet about her everyday life and inspirations to her avid followers.
Twitter Handle: katyperry
Followers: 2,335,259
20. Justin Beiber:
The teen heart throb stays connected with friends and fans through his many tweets when on tour around the globe.
Twitter Handle: justinbeiber
Followers: 2,422,843
19. Lance Armstrong:
The inspirational cyclist likes to tweet about his charities, social causes and life.
Twitter Handle: lancearmstrong
Followers: 2,491,844
18. 50 Cent:
The famous rapper likes to tweet about his upcoming tour dates and appearances along with his musical inspirations.
Twitter Handle: 50cent
Followers: 2,553,315
17. Jimmy Fallon:
The Late Night host and SNL veteran is known for his down to earth humor and quick-witted tweets.
Twitter Handle: jimmyfallon
Followers: 2,569,250
16. Sean Combs:
Puff daddy, P.diddy and these days just diddy likes to keep it real for his fans and tweets about just about anything he wants.
Twitter Handle: iamdiddy
Followers: 2,575,070
15. Demi Moore:
Demi Moore better known as Mrs. Ashton Kutcher likes to tweet about causes she believes in like eliminating slavery and her twitter interactions often involve other famous celebs.
Twitter Handle: mrskutcher
Followers: 2,695,882
14. Mariah Carey:
The musical diva likes to tweet about her daily life and her ideas about music and the industry.
Twitter Handle: MariahCarey
Followers: 2,702,706
13. Coldplay:
The famed British alternative rock band collectively tweet about their musical activities and interact with followers.
Twitter Handle: coldplay
Followers: 2,744,912
12. Shaq O´Neil:
The Shaq likes to tweet to his many fans about his current activities regarding his musical and basketball careers.
Twitter Handle: THE_REAL_SHAQ
Followers: 2,906,619
11. Ashley Tisdale:
The 24 year old Actress, singer and TV producer just misses the top ten most famous celebrities on Twitter but she keeps her fans happy with tweets about her fascinating life as a young celebrity.
Twitter Handle: ashleytisdale
Followers: 3,026,573
10. Ryan Seacrest:
The host of many TV shows including the ever popular American Idol keeps his twitter following interested through his celebrity inside scoops and interaction with fans.
Twitter Handle: RyanSeacrest
Followers: 3,127,636
9. Taylor Swift:
The famous singer and actress keeps her huge mass of followers interested through her witty tweets and celebrity interactions.
Twitter Handle: taylorswift13
Followers: 3,167,202
8. John Mayer:
The soulful singer tweets about his tour dates and other promotional stuff along with his sex life.
Twitter Handle: johncmayer
Followers: 3,265,534
7. Oprah Winfrey:
The queen of daytime television doesn´t quite make it to number one but keeps her twitter followers interested by regularly updating them on the latest topics of debate on her show.
Twitter Handle: Oprah
Followers: 3,512,770
6. Kim Kardashian:
Beating out Oprah, kim Kardashian has earned unprecedented fame for her curvy bottom and capitalizes on her celeb connections and interactions to keep her huge twitter following interested.
Twitter Handle: KimKardashian
Followers: 3,606,147
5. Barack Obama:
The president of the free world loses out to 4 others to grab the 5th most popular tweeter place. He likes to tweet and get debates going about his policies, as expected.
Twitter Handle: BarackObama
Followers: 3,929,918
4. Lady Gaga:
The outrageous pop star and cultural icon beats the president to tweet to her followers about her inspirations in life and art.
Twitter Handle: ladygaga
Followers: 3,965,321
3. Ellen DeGeneres:
The funny talk show host keeps it light, funny and witty with her tweets.
Twitter Handle: TheEllenShow
Followers: 4,595,854
2. Britney Spears:
The once iconic pop star keeps close to half a million followers hooked on to her every word by simply telling them what she is up to and what is on her mind.
Twitter Handle: britneyspears
Followers: 4,870,828
1. Ashton Kutcher:
Inching closer than anyone else to the half a million followers mark Ashton Kutcher plays it cool and mixes it up. He tweets about everything from his breakfast to his charities and his many many celebrity friends including his celebrity wife to keep the followers hooked.
Twitter Handle: aplusk
Followers: 4,880,869
If you are interest in more articles like this one, read Letitflow your one-click stop for all the latest news on celebrities, fashion, high-tech gadgets, luxury cars, exotic travel destinations, and much more!
13 Replies

Leave a Reply