As more and more people are using smartphones, hackers are becoming more interested in exploiting the security loopholes that companies fail to address. Fortunately, there is Lookout raising to the challenge of protecting your private data on any smartphone.
Meet Lookout
Lookout (formerly known as Flexilis) describes itself as a smartphone security company dedicated to making the mobile experience safe for everyone, anywhere and everywhere your smartphone goes.
At the time this article was written, the Lookout app is available for Android, Windows Mobile and BlackBerry platforms. The free app lets you immediately know which of your apps are tapping private data (e.g. info from your list of contacts, SMS messages, etc.) from your phone. There is also a premium version ($2.99 per month) with extra features such as remote lock and remote wipe to protect your phone, and enhanced backup and restore for photos and call history.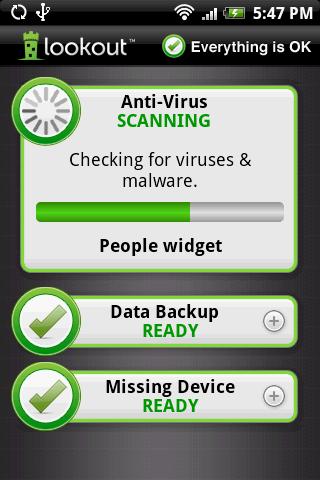 Ahead of the Curve in Smartphone Security
The Lookout app is currently being used by over 10 million users across 400 mobile networks in 170 countries around the world. This is an impressive figure because the alternative apps from established data-security players such as Symantec and McAfee have only downloaded a couple hundred thousand times.
Furthermore, the CEO and Founder of Lookout, John Hering, is a well-known expert in mobile security. He has been working in this field since 2003, long before Symantec and McAfee began to address the potential security threats in the mobile industry.
The Lookout  team is completed by James Burgess (VP Engineering) and Kevin Mahaffey (CTO). According to the company website, James has over 12 years of experience in software engineering and management. He is responsible for engineering, product operations, security response and support at Lookout. Prior to Lookout, he was senior director of engineering at Symantec, where he managed a 120 person global engineering team that was responsible for developing the Data Loss Prevention (DLP) security products, Symantec's fastest growing business.
Finally, Kevin is an entrepreneur and technologist with a background in security, wireless, and web applications; a Summa Cum Laude graduate with a degree in Electrical Engineering from the University of Southern California; and an frequent speaker on big conferences regarding security and mobile topics.
Protect your private data on any Android, Windows Mobile and BlackBerry smartphone with Lookout at http://www.mylookout.com/download.
By Damian Davila, blogger covering tech and gadgetsat idaconcpts.com. You can read more articles from Damian at SexySocialMedia here. Follow him on Twitter at @idaconcpts.
No Replies
Feel free to leave a reply using the form below!
Leave a Reply