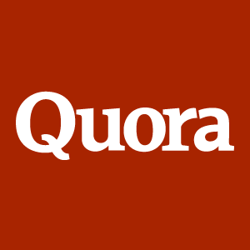 Back in July 2011, I discussed about how Namesake differed from Quora in that the first startup did not focus only on questions and did not want to become a formal repository. Let's take a deeper look at what Quora is about and the team behind it.
What is Quora?
According to its website, Quora is a continually improving collection of questions and answers created, edited, and organized by everyone who uses it.
Quora is a fast-growing social startup that was featured several times in Bloomberg Business Week (e.g. September 2010, January 2011) and more recently in Fortune this June 2011. Based in downtown Palo Alto, CA and funded by Benchmark Capital, Quora was founded in 2009 by 2 former Facebook executives, Adam D'Angelo and Charlie Cheever.
While the question repository startup is backed by a strong financial and development team, Compete reports that the site struggles to maintain a constant user base of monthly unique users.
In June 2011, Jessi Hempel reported the number of Quora users to be steady at around 200,000.
How does Quora work?
If Quora's user interface reminds you a lot about Facebook, it shouldn't be a surprise. Not only the founders of Quora were Facebook engineers, but also the product design manager, RebekahCox, was for 2 years the interim director of design and user experience at Facebook. On top of this, Matt Cohler, a former Facebook executive and partner at Benchmark Capital, was the one that spearheaded the  $11 million investment in Quora in March 2011.
Quora stands out from other Q&A sites in that it has the leverage of including power users such as Netscape founder Marc Andreessen, Facebook co-founder Dustin Moskovitz, and even AOL founder Steve Case. Unlike Wikipedia, Quora strives to showcase the experts behind the answers. In their own words:
If Michael Jordan gives an answer to a question about basketball, that means something really different from someone who has never played the game giving an answer.
Still, the design team led by Cox makes sure that the system remains fair in that any members can post and answer questions, and in that all answer can be voted up or down so that the highest-quality answers migrate to the top of the list. A common concern about the mix between power users and popularity contests is that the system might lack the objectivity of Wikipedia.
Try getting answers using Quora at http://www.quora.com.
By Damian Davila, blogger who discusses about startups at idaconcpts.com. Follow him on Twitter at @idaconcpts.
4 Replies

Leave a Reply