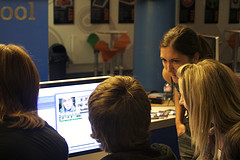 Social networking comes in different shapes and sizes, but for many small businesses, the social networking process does not receive enough emphasis.
For companies not taking advantage of the social networking tools available, lost business opportunities can quickly come to the forefront, leaving the competition there to scoop up the business.
For companies who have taken advantage of the different social networking options out there, new doors are opened, potentially leading to more business and of course more revenue.
Promoting the Brand is Paramount
A company's brand is of the utmost importance, but how many small businesses fail too often to properly promote their products and services? Unfortunately, the answer is too many times.
In essence, there are many ways small businesses can better utilize social networking to promote their brand and increase the opportunities to bring in more revenue.
Among the options and benefits are:
Hyping the company blog – Assuming one's company has its own blog, what exactly are they doing with it? Are they updating it on a regular basis? If they are providing fresh content, how are they promoting it? Is it just sitting on the company site with little or no reader attention? If that's the case, companies need to give it some love;
Utilizing a CRM application – With a CRM application, companies can utilize software to assist in the automation process of getting their brand placed among different social networks;
Paid advertising campaigns – There are opportunities on social media venues such as Facebook for companies to take part in paid advertising campaigns. By doing so, companies can better gain access to customers who indicate an interest in their products;
Sharing and tweeting – One area that many companies fail to capitalize on is promoting their products and/or services through sites such as Facebook and Twitter. Whether it is sharing or tweeting, companies are missing out if they are not sharing links etc. to their company news and other important information that consumers using the Internet would find useful. Companies should also explore their social networking opportunities on sites such as LinkedIn, which provides contact to countless business professionals. With LinkedIn, companies can gain access to different professional groups, along with listing events and business possibilities;
Taking part in and/or organizing online networking events – As more and more companies are finding out, online social networking events are a great way for companies to reach out to potential consumers. By hosting an online event to familiarize individuals with one's company, the possibilities are endless;
Receiving feedback – If one's company is active with social networking, it can obtain feedback from both current and potential customers. While in the old days it was common to receive such feedback either with an in-person visit, phone call or letter, more consumers nowadays use the Internet to communicate with companies. Even when the feedback is negative, one's company is receiving valuable information from the individual.
While many companies do successfully promote their brands and services through social networking, others lag behind.
For those companies in tune with the best ways to achieve social networking success, the sky is the limit.
Dave Thomas writes extensively for B2b lead generation online resource Resource Nation that provides expert advice on purchasing and outsourcing decisions for small business owners and entrepreneurs. He is an expert writer on items like postage scales and is based in San Diego, California.
cc licensed ( BY SD ) flickr photo shared by FuturePresent | cláudia gabriela marques vieira
2 Replies

Leave a Reply