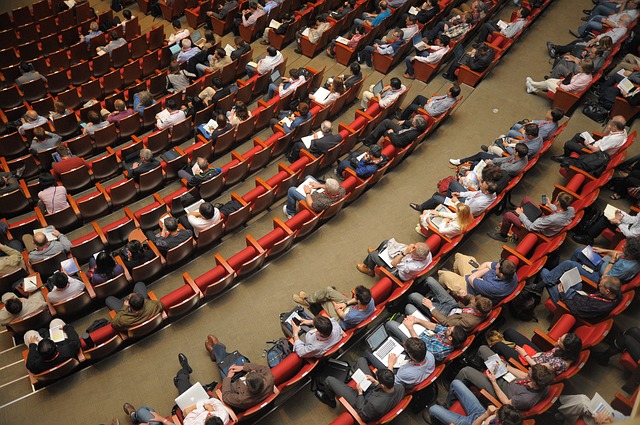 If you are planning an event that will transpire soon, it's time to start thinking about which steps you need to take to ensure that the get-together or corporate meeting is as successful as possible.
To learn more about what you can do to optimize your event, consider using some or all of the following six strategies:
1. Advertise Effectively.
One great way to improve your event is by increasing the likelihood that you have a wonderful turnout. To do so, it's important for you to focus on advertising effectively.
Luckily, there are hundreds of marketing strategies that you can deploy to enhance the marketing process. One of them is by starting a social media group or online discussion board regarding your event and having everyone continually communicate about it up until the date that it transpires.
This is a great way to increase excitement about your party or meeting while simultaneously ensuring that people are constantly thinking about it such that they are more likely to attend!
2. Use LED Technology.
Another great way to improve your next event is through the use of LED technology. Companies like Xylobands offer a wide range of amazing technological products that can be used to enhance the aesthetic appeal and liveliness of your group.
From LED lanyards to glow balls to wristbands, there are a wide range of great options that you can select from.
3. Ask Your Guests To Bring Something.
This strategy is effective because it optimizes engagement by requiring people to really participate in your event rather than just showing up. In many cases, optimized engagement leads to optimized enjoyment of the get-together. Luckily, there are hundreds of strategies you can implement to ensure that your guests bring something.
If you're having a casual get-together, you might ask them to bring their favorite dish. If you're hosting a holiday celebration, you can do a secret gift exchange in which everyone draws names from a hat and brings a present for that person.
4. Do Something Different.
Despite the fact that change and novelty can be intimidating and/or inspire fear, people tend to like seeing and experiencing new things. As such, it's a good idea to do something conspicuously innovative or unique at your event.
This could be anything from the use of fireworks to the reading of a personal narrative that somehow ties into the theme of your function.
5. Start With A Strong Welcome.
In addition to asking your guests to bring something, start with a strong welcome. First impressions are important, and adopting this approach will get things off to a great start by ensuring that people become excited and interested in your event from the very beginning. Beginning with a strong welcome could include a number of things, including but not limited to a game which involves awarding the winner a promotional prize.
This is a great strategy for corporate events because the game will get people excited and the promotional prize functions as an excellent, cost-effective branding strategy.
6. End Strong.
In addition to getting your event off to a great start, make sure that you end strong. Doing so will help ensure that people are left with a great memory regarding you and/or your organization. There are several ways that you can end strong, such as by giving everyone a gift as they leave.
Don't Delay: Start Improving Your Event Today!
If you're ready to make your next event a smashing success, know that planning is key. You can utilize some or all of the event enhancement techniques outlined above to ensure that your personal party or professional get-together goes swimmingly well!
The Xylobands USA technology team come from 35 years of experience and are simply the best.  From TLC Creative, their expertise will not only provide you with exceptional ideas for how to make your event stunning and memorable, but they will take the stress out, knowing that their experience, reliability and dedication will kick in to be sure everything goes off as you envision.
No Replies
Feel free to leave a reply using the form below!
Leave a Reply