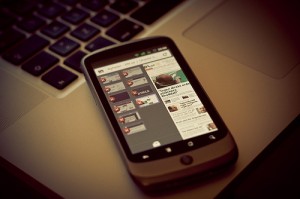 As the New Year draws closer, it is likely that more and more companies will look at what well-known brands like Starbucks (more than 17,000 stores worldwide) and Dunkin' Donuts (2,600 stores in 30 countries) have done to become more mobile.
Being more mobile and engaging in social media to promote such customer activity, both companies have continued to grow their respective names.
When it comes to Starbucks, the Seattle-based franchise noted publicly that it transacts more than 2 million payments each week, and that the company has registered more than 100 million mobile payment transactions dating back to January of 2011 when it unveiled its mobile app. Lastly, the company also reports more than $3 billion has been electronically loaded onto company cards in 2012 alone, with Starbucks card purchases adding up to more than one-fourth of sales nationwide.
Along with having a well-known brand name worldwide, Starbucks has a mobile strategy that includes a mobile ad campaign to generate in-store traffic, along with mobile revenue for some new products.
Meantime, Dunkin' Donuts recent Halloween mobile campaign interacted with consumers by providing a Halloween-themed contest, along with mobile gift cards. The name synonymous with donuts around the globe also made use of mobile and social platforms Instagram and Twitter.
The campaign was orchestrated to get consumers excited about Halloween-themed menu items, along with educating them on the brand's new mobile payment options. For the company itself, the social media contest was a means of making its fans the priority, while offering an outlet for them on the two social media venues.
The Dunkin' Donuts mobile payment app – unveiled in late summer and available on iPhone and Android – allows consumers to buy beverages, food and merchandise at the point-of-sale (POS). According to a spokesperson for the company, the brand proves to be the only national coffee retailer to allow consumers to send virtual gift cards via text, email and Facebook Connect.
For both brands and others like them, offering more mobility to customers makes sense (not to mention more cents) over time.
Companies such as these can spend less on marketing, while getting a better return on revenue due to the fact that customers using mobile payments work their way through lines more quickly. In many cases, customers are also more apt to partake in impulse buying when they do not have to worry about having enough cash in their wallets or purses when shopping for a coffee or a bakery item.
Both companies also show no signs of slowing down when it comes to promoting their offerings on social media.
From touting their latest brand products, to answering customer inquiries and trying to solve product and service complaints, both Starbucks and Dunkin' Donuts use social media to not only tell their respective company stories, but to also engage the consumer.
As 2012 winds down, a check of Starbucks shows the brand has more than 3 million followers on Twitter, with some 900,000 on Instagram. Meantime, Dunkin' Donuts is closing in on some 200,000 followers on Twitter.
With a New Year about ready to kick off, what will your company's story be in 2013?
Will it be the one where 2013 was the year that your business not only became more mobile, but it also went to being more social in the process?
About the author: Dave Thomas covers consumer and small business topics for various websites, including mobile credit card processing.
Image Credit: 1.
9 Replies

Leave a Reply