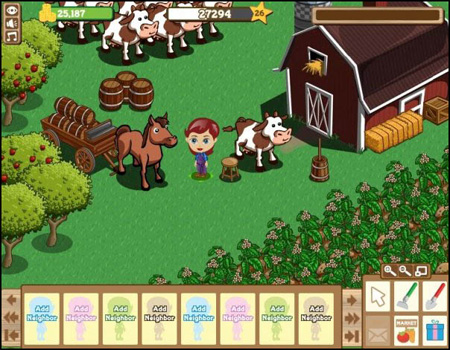 I have to confess that I am one of those few Facebook users out there that does NOT play Farmville. However, I'm willing to be fair and give it an exploratory look within this post to see whether or not it is worth the time. Of course, I play a number of other app games on my iPhone, so why would I discriminate?
My only deterrence to Farmville is how many of my Facebook friends on the news feed update their Farmville information over and over again so that it clogs the live feed!
Is anyone else frustrated?
The advantages that I have seen so far from many Facebook users is that Farmville is just like an actual farm, and it can become quite addicting to do all of the related activities, especially when you get your friends on Facebook involved. Again, this is all Greek to me, but once you start asking for favors or other things from your Facebook friends, it becomes a never-ending cycle that you just can't escape.
One other main draw to the Farmville craze is that it is reminiscent of many of the older SIMS games that used to be so popular. If you are someone who doesn't like the bloody and gory games that your boyfriend may be playing, this is the perfect alternative to still have some media interaction without killing or going on missions. Farmville is a somewhat tamer, but you still get to be involved in your character, especially in that you are connected to your Facebook circle.
So what is the conclusion?
I have not become a believer just yet, but I do see why so many people are playing Farmville. It's popular for a reason! This is the perfect choice for anyone looking for an interactive game with friends using SIM characters so that you can piddle your time away at work or at home for the love of the farm!
Bethany North's specialty site for all coffee needs and Commercial Coffee Makers can be found at The Coffee Bump.
3 Replies

Leave a Reply