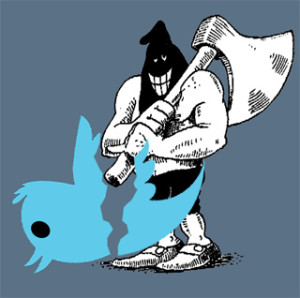 No sane human being would like his account to be hacked at any given time. Most of us work very hard to avoid any form of hacking on our information spread across the web. As Twitter rises in popularity and lots of companies, famous people, celebrities and people are engaged in creating millions of tweets, the world has been baffled by the increase in Twitter hacks, especially in 2013. Jeep and the fast food giant Burger King have seen lots of their accounts hacked. A Twitter account belonging to the Associated Press was hacked and used to report White House has been bombed. Even the twitter account of the Guardian newspaper was hacked although nothing evil was tweeted.
The response has been Twitter warnings issued by various news companies to the effect that they highly believe such attacks on various accounts will continue with media and news organizations continually of very high importance to rogue hackers. Also, brands that are not affiliated to news are also being hacked if Jeep and Burger King are anything to go by. Twitter did not leave Twitter users without tips for companies to use to prevent hacking attempts. A two-factor type of authentication is being implemented with few solutions being offered in the meantime. So, what did Twitter indicate you do to protect your account from being hacked?
Password Changes
One of the most sophisticated cyber crimes include trying to hack passwords. Simple passwords are fodder for hackers. What you can do is create a password of more than twenty characters or use random generators of passwords.
Avoid Email Password Sharing
AP reports indicate that the hacking of their account followed a well written phishing email.
Account Access Limit
Another important thing is to ensure only a few individuals in a company know the password, perhaps less than five, whether it is a company with hundreds of workers or not. These five individuals should be taken through a document on loss prevention on how to safeguard company passwords and the risk involved if it ever happens.
Trend Carefully With Mobile Devices
It is worth noting Smartphones are stolen or lost with ease and logging into your company's Twitter account via phone could be dangerous if the phone is stolen or lost. You should avoid trusting yourself with a tablet or Smartphone with lots of pre-programmed guarded passwords for your company.
Logging In Carefully
It is very important to ensure that you are in the right Twitter website before adding your details. Otherwise, phishing could take place. In the same token, avoid saving log information and passwords on browsers.
Authorization Apps Review
Many people authorize apps to take control of their Twitter accounts but do not come to review them, especially with so many third-party apps out there. You will be much safer if you can get rid of apps you no longer recognize or not using.
What Are You Clicking?
It is important to avoid clicking links on Twitter you have no idea about since they might contain the worst software crafted to silent downloading on your mobile phone or PC accessing it to hackers.
Author Bio
Marie is a college graduate who is addicted to social networking and uses those platforms daily. She recently blogged on how she lost her access to gmail account and used this website socialpasswordfinder.com to recover her lost password.
Image Credit: 1.
No Replies
Feel free to leave a reply using the form below!
Leave a Reply