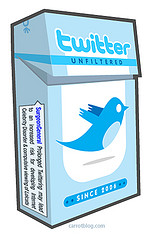 Fashion Week in NY makes national headlines each year but for 2010, it was the social networking world that blew up with news about the upcoming fashions by known designers. Twitter especially seemed to be the go-to resources for fashion-conscious followers. Marketers of all-things-fashion have set the Twitterverse on fire with the start of New York's Fashion week. Between September 9 and September 16, more than 165,000 tweets were posted on the social networking site under the hashtag #nyfw.
Brands such as Betsey Johnson and Michael Kors benefited from the activity as many increased their followers by the thousands, with one South Korean designer, Bumsuk Choi, increasing his following by 1,200 without having tweeted a single word in English over the course of the week. That number was a 40% increase in his following prior to Fashion Week. Celebrities were also abuzz with NY Fashion Week events and trends, keeping followers in constant touch with what was happening on the runways.
Just a few years back, Fashion Week was barely a blip on Twitter but with the random live tweeting marathons by noted designers including Marc Jacob's and other social networker promotions via Foursquare and Facebook, Fashion Week capitalized on the immense vale of social networking and digital media with this year's celebrations.
5 Replies

Leave a Reply