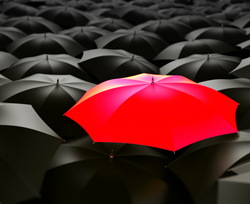 With over 500 million active users, trying to reach everyone on Facebook is like trying to talk to every person in a whole country. It's just not targeted enough and your message will end up being diluted and reaching the wrong people.
So how do you stand out on Facebook in a way that cuts through the rest of the noise and attracts the Right People, the ones you are on a mission to help?
Here are 5 ways to do just that:
1. Customize Your Banner

Your Facebook banner is the main image for your Page that shows up on the left side, same as on your personal profile. This image can be a vertical banner, up to 540 pixels high by 180 wide, so take advantage of that space!
To get your banner to fill up all the space allowed by Facebook, just create your image to be 180×540, then design it however you want.
Your banner can include your branding, so that it matches the rest of your online (and offline) platform. It can include a call to action where you tell them the one thing you want them to do when they are on your Page. It can include your tagline and some bullet points about the benefits they'll get from working with you. You can fill that space in with whatever you want.
When deciding what to put on your banner, think about what one or two actions you most want your Page visitors to take. Do you want them to click the Like button? Do you want them to leave you a comment on the wall and introduce themselves? Do you want them to download something? Do you want them to signup for something?
Once you've decided what you most want them to do on your Page, then work that into your banner. Make it clear what that next action you want them to take is and invite them to take it.
2. Give Your Fans Something for Like-ing You
One of the best ways to really stand out on Facebook is to offer outstanding value. You can do this through the content that you share every day, but why not also have something that fans can get as a special thank you for Like-ing your Page?
This could be a free download of a video, audio or PDF. Offer them a special report, an ebook, a teleseminar replay, or something else that they would be interested in and find helpful. Make it even more valuable by offering something that they can't get anywhere else, not even on your website.
With some of the popular iFrames apps, you can easily set up a page within your Facebook Page that let's fans download your goodies, and shows a different page to non-fans, encouraging them to click the Like button to gain access to the goodies. This is called a "Fan Gate" and is a great way to entice people to like your Page.
Giving your fans something of valuable, something that will be helpful and useful for them, will really help you stand out. They will be more likely to "listen" to what you have to say when you are sharing things – and they'll be more likely to share the Page with their friends!
3. Share Valuable, Interesting Tips and Resources
I've already alluded to this in earlier sections, but it's worth addressing as a section of its own, as this is one of the BEST ways to stand out on Facebook.
You absolutely need to be sharing things on Facebook that are interesting, useful, helpful and even valuable for your fans. This is what will keep them interacting with you, telling their friends and coming back for more.
The key to sharing valuable content for your fans is to remember that it's not about you. It's all about them. If you look at your Facebook strategy from this angle, you will almost guarantee that you'll stand out.
What benefits or results do you get for your clients, and how can you help your Facebook fans to get some of those results, or get a step closer to those results? What kind of tips, articles and other content and resources can you share?
What is your ideal fan's most pressing problem that you can help solve? What are they frustrated with? What questions do they have? If you can help them out with those issues through your Facebook updates, then you will quickly build a community of raving fans who just can't get enough of you and you will certainly stand out from everyone else who is still sharing what they want to share, not what their fans want.
4. Make Your Page a Place to Hang Out
Most people who become fans of your Facebook Page will never actually see your Page again. They'll see your updates come through their News Feed, but they will not likely visit your actual Page again.
You can change this, though, by making your Facebook Page a cool place to hang out. Add pages with articles, tips, how-to's, downloads, links to great resources, and other content that will help to answer their questions and move them closer to a solution for their problems.
You can create these pages right within your Facebook Page, or create them on your website and just embed them in your Facebook Page. Whichever way you prefer to do it, make your Facebook Page a valuable resource for your fans, then tell them about it. Let them know that you have all of this great content for them to explore, so they have a reason to come back to your Page.
Keep your Page content updated and add new things to it regularly to keep people coming back. You can post updates that tell your fans there is new content up on the Page, and maybe even hint or tease at what it is to pique their interest in checking it out.
5. Share more Photos and Videos
When planning out your Facebook updates and deciding what you're going to share through your Page, be sure to mix a lot of photos and videos into your updates. Photos and videos get the most interaction and response on Facebook, so use these two forms of media wherever you can.
You can post photos of your products, your team, your clients, your projects, your fans, or whatever else fits with your big message and what you're doing in your business. If you attend a lot of events or do a lot of in-person work with your clients, get photos of those to show your fans a bit more about what you're like and what it's like to work with you.
You can showcase new projects or some of your favorite previous projects from your portfolio. You can share pictures and announce a new product or new store location. Whatever is applicable for you and your business.
Videos are a great way to teach and train, to actually show how to do something. They are also a great way for your fans to get to know you, to see what you're like, how you talk, how you act. It's a great way to really let them see more of who you are.
You can do video interviews with significant people in your industry or video testimonials from your happy clients and customers. You can do video tours of your office or store, the favorite coffee shop you work from or other places that are part of running your business and working with your clients.
Photos and video give your fans something visual, something to see without having to read a bunch of text. "A picture says a thousand words", so get your pictures up on your Page to help you share your big message!
Your Turn
There you have it, 5 ways to stand out on Facebook. Even if you start using just a couple of these ideas, you'll see a difference. Incorporate all 5 and you will see a huge difference in how quickly your Facebook Page builds and how eager your fans are to interact with you. What do you think? Have you tried some of these strategies and seen the difference they make? Are there additional strategies that have worked for you that you would add to this list?
Jess is a quirky entrepreneur who helps fellow quirks EXPLODE their business on Facebook. She loves all things Facebook and being able to help business owners learn how to build an active audience to grow their business through Facebook. If you'd like to learn more, you can attend her FREE webinar, The Facebook Explosion Blueprint, or join The Facebook Explosion Community on Facebook.
8 Replies

Leave a Reply