Given the rise of smartphones and the further introduction of basic mobile phones into rural areas, there is a strong trend towards using mobiles to conduct financial transactions.
The Industry
According to the Yankee Group, the worldwide transaction value of mobile payments will total $984 billion by 2014, up from $162 billion in 2010. Mobile payments is defined as transactions from mobile banking, international and domestic remittances, contactless cards, mobile coupons and near-field communications.
According to a February 2011 survey from Accenture, Asia is the region that leads the mobile financial transaction pack,already conducting a wide variety of mobile transactions at significantly higher rates than their counterparts in the US and Europe. Activities range from checking bank account balances to making purchases to making money transfers.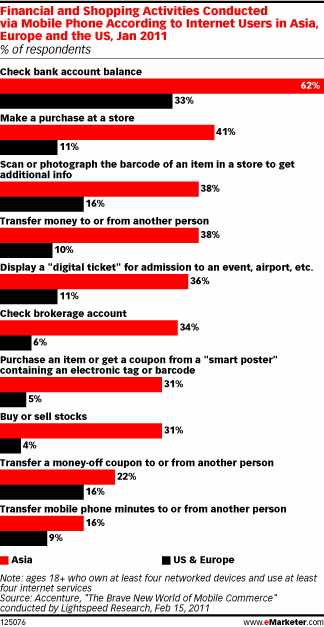 The Players
Ranging from  Visa to eBay's PayPal to Verizon and AT&T, everybody is racing to establish the standard for platforms that consumers will use for their mobile transactions. While Paypal may be the most well known player in the field of mobile transactions, a dark horse in the industry is Square. In an interview with Fortune, Keith Rabois, chief operating officer of Square, asserts that he isn't convinced that consumers will embrace the big players' model, which often involves specially tricked-out phones and newfangled cash registers.
The Dark Horse: Square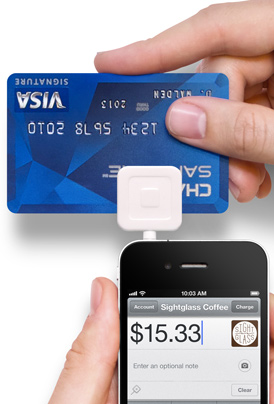 Square is a payment service that has long been a well-kept secret from early adopters and techies to vow their friends, however it is slowly but steady accepting mainstream acceptance.
Square, Inc. has an interesting origin story:
[Twitter's Jack] Dorsey's former boss and good friend (and eventual co-founder) Jim McKelvey lost a sale for his hand-blown glass because he had no way of accepting credit cards. The problem was one many people had–the barriers to setting yourself up through conventional processes to accept credit card payments were too high for many people. So Dorsey set about seeing if he could create a better system.
The result was a small square-shaped object that has the ability to be attached to devices such as an iPhone, iPad or Android device through the headphone jack. This product is a mini card reader which allows a person to swipe their card, choose an amount to give to the recipient and then sign their name for confirmation. The Square app is available for free download for iOS and Android OS. The system hast other features such as receipts sent via email and loyalty cards with selected vendors.
Can Square Become the Standard?
While the system is great for individual users and smal- and mid-size companies because of the low overhead (free app, free reader) and usage (flat 2.75% fee per transaction) costs, the system does have higher costs for large companies. While current solutions do have higher up-front costs than Square, they do charge much lower percentages per transaction than Square.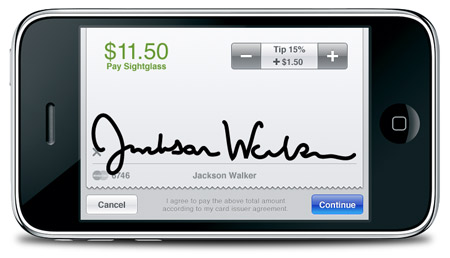 Takeaway
If you have an iPad, iPhone or Android phone and you're looking for a way to accept credit card payments to grow your business, give Square a try:
By Damian Davila, blogger covering tech and gadgets at idaconcpts.com. You can read more articles from Damian at SexySocialMedia here. Follow him on Twitter at @idaconcpts.
No Replies
Feel free to leave a reply using the form below!
Leave a Reply