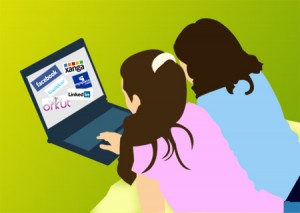 Networking never really stops, even when you have your foot in the door at a company. Getting out there – whether in person or virtually – and meeting other people in your profession is essential if you want to find better or additional opportunities, keep up with the latest happenings in your industry, and build a network of contacts to whom you can turn for jobs leads and support.
Not everyone embraces or finds networking easy. Some people just aren't comfortable chatting with people they don't know, even if they have common interests. Fortunately, networking can be pretty easy, even if you're an introvert, thanks to the internet.
Two decades ago, if you wanted to meet other people in your industry, you had to actually leave your house. Today, with the many social networking websites flooding the web, you never even have to get off of the couch. You do, however, have to put in some work and participate frequently if you really want social networking to work to your advantage.
Everyone knows the most popular social networking sites – Facebook, Twitter, and LinkedIn. Facebook allows users to network with others in their industry by joining groups while LinkedIn is arguably the most professional of the three, encouraging users to create a professional profile, to link their Twitter accounts to their LinkedIn account, and to join and participate in groups with others in their profession.
But, the trio is only the tip of the iceberg when it comes to social networking sites. Networking for Professionals offers both online and in-person networking events for professionals across all industries. The organization currently has branches on both the east coast (Philadelphia, Boston, and Miami) and the west coast (Los Angeles and San Antonio).
Ziggs offers professionals the opportunity to  "take control of your online image" by posting a profile, keeping track of the people who visit your profile, applying for or posting jobs, and adding your profile to professional directories.
Xing, which describes itself as a "professional business network," welcomes professionals from around the globe; BizNik offers both online and in-person networking events in Portland, San Francisco, Los Angeles, San Diego, Austin, and New York; and Fast Pitch Networking provides a platform for business professionals to market themselves and their businesses and to network. Like the rest of the social networking sites, professionals can also post a professional profile.
In addition, be sure to do some research to find out if there are social networking sites dedicated solely to your industry as most of the sites mentioned are open to professionals in all industries and allow professionals to network with and join groups in their industry.
Local groups
While social networking sites continue to add local events to their agenda, you can also join local groups to connect with other professionals in your industry. Local chapters of the Chamber of Commerce often hold monthly events while Toastmasters welcomes professionals who want to hone their public speaking skills.
You can also find local events online through online organizations like BNI International, which hosts chapters throughout the country while Networking Event Finders publishes networking events in cities throughout the United States.
In addition, keep an eye out for conferences and other events dedicated to your industry, which provide an effective means of meeting people in your profession.
Networking to connect with other professionals in your industry has become as easy as going online. Be sure that you take the time to put up a professional profile on sites that allow you to and that you actively engage in any groups you join. The more you communicate with others in your profession, the more you will benefit from your networking.
Frankie Ebsen is a career and employment writer.  He is currently working with students and employers to match them with fashion colleges.
17 Replies

Leave a Reply