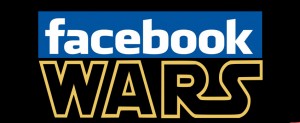 Facebook can be a virtual war zone. First you get games that actually have "War" in their titles, such as the popular Mafia Wars. Then you have disgruntled Facebook users, such as the woman who is actually suing a man for "defamation of character," according to an Associated Press report, after their relationship went sour. They met through Facebook, by the way, playing Mafia Wars.
But the Facebook wars that can be the most fun and touch on what really seems to matter these days, is how many "likes" you get. After all, you need at least 50 "likes" before one of your pages can get its own personal, non-gangly URL – and 50 is merely a drop in the bucket where the real wars are concerned. The war of the two of most popular celebrities on Facebook had a recent dramatic usurping, according to Rapid News Network.
Rihanna beat out Lady Gaga for the title of the woman with the largest number of likes. Rihanna took the top slot with a generous 40,591,626 Facebook fans as of press time, usurping the long-reigning Lady Gaga's 40,560,781 Facebook fans. A slim margin, but a winning one nonetheless. Lady Gaga, however, can never be stripped of her title as the first living person to garner 10 million Facebook likes. Nor will she be dethroned from her reign as the first to rack up 10 million Twitter followers or 1 billion views on YouTube.
Not many can compete with such popularity, although several Facebook pages do have plenty of folks out there liking them. Taking a gander at what fuels the American public – besides celebrities like Rihanna and Lady Gaga, of course – you can get a feel for how such things compete with the queens of pop.
Beer has five separate pages, each with likes at least in the tens of thousands, but one of the two Beer Pong pages drinks them under the table with 1.2 million likes. That still doesn't touch the Budweiser page with 1.6 million. The McDonald's page has 9.5 million likes, Burger King a mere 1.4 million, and pages with the general name of Junk Food have anywhere from 4 to 6,886 likers. Pages named Fitness, thankfully, have tens of thousands of likers, while the craze of Zumba Fitness rakes in 1.9 million likes.
If you take a peek at pages of some other celebrities you find the Michael Jackson page has 38.7 million likes, the four Justin Bieber pages have between 47,000 and 33.6 million likes and the pages with Justin's last name spelled incorrectly as "Beiber" have up to 252,000 likes.
Yes, it's a war out there – and actually a pretty interesting way to gauge the mindset of the general public, or at least those who participate on Facebook. For the record, there are about 6.9 million members of that public who play Mafia Wars each month and 17.7 million folks who like the Mafia Wars page. At least the collection of pages named Charles Manson is still low in the likes, with the top one not even scraping past 5,000.
Jacob Maslow is a contributing writer to  Rapid News Network and Marketing Director for Allergy Be Gone .
7 Replies

Leave a Reply