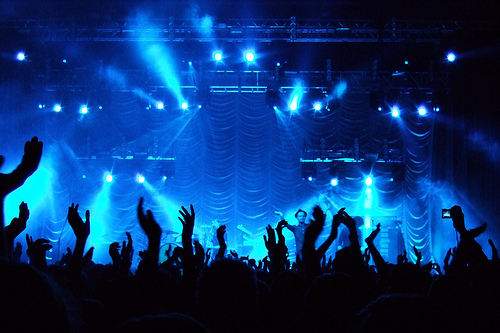 Social Media facets, Facebook, Twitter, etc. are all great ways to keep your fans in touch with your brand.  However one drawback is, if that fan or customer is not at their news feed at the right moment, you missed them.  That is one reason why email marketing has and still will be a major player to communicate directly with your consumer/fans.
I keep mentioning fans because as a music marketer, as well as a marketer for small business, a fan of a band is the same thing as a customer of a favored brand.  That might be one of the reasons our motto at Endagon Enterprise is,
"Connecting bands and brands to more fans."
Here is a sweet strategy to grow both your email subscriber list, as well as your Facebook/Twitter fan base SIMULTANEOUSLY.
Response to incentives is what moves this world.  So give your fans an incentive to share your brands online presence.  Offer them something like a discount coupon code, or gift card, in exchange for their email plus a hit of the "like" button on Facebook.  But wait, here is the awesome most crucial part…
You only give out the incentive if your brand hits a pre-determined number of followers on the social platform.  For example, the campaign should read something like this…
"10% off anything" coupon code, just put in your name and email.  Make sure to tell your friends because no one gets it until we hit 100 followers on Facebook."  (or Twitter, or both if your feeling lucky)  You can even toy with the numbers.  For instance, "20% off for the 200 follower mark, 30% for 300 and so on."
You should even do this for the thousands' mark if your brand is big enough.  Replace the percent sign with a dollar gift card value and start really wowing people.
The best part of all this is its "viral," that miraculous social media term we all strive for.  For your fans who want that $10 coupon, you can bet they will ask their friends to help them get it.
Salvatore Greco, a young marketer/entrepreneur, works with Endagon Enterprise, one of Florida's first and premier social media marketing agencies.  He loves to surf, as well as write/market music for his Hip-Hop fusion band, "Pharmaceutical Funk."
cc licensed flickr photo shared by marfis75
6 Replies
Leave a Reply