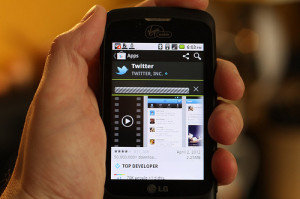 Social media sites like Twitter and Facebook are quickly becoming the go-to information source for just about anything that's considered the latest and greatest.
And, because of social media's powerhouse stature, it's also become a great resource for all-things technology, including the newest apps on the market.
So, when it comes to finding the perfect app for your digital life, here are just a few ways social media can help:
Ask Friends
It's right there in the title: social media is social.
So, when it comes to figuring out the best app for your needs, why not ask your friends on Facebook. Besides, you and your Facebook friends are probably likeminded, so they'll have invaluable app insights and if they don't, they're probably friends with someone who does.
The same goes with your Twitter followers.
Use those 140 characters to ask your fellow tweeters their app recommendations. Think of it this way, considering the vast number of social media connections you have, some of your friends and followers may already have the app you're looking for.
Post App-Specific Questions
If you're looking to take a more direct approach when gathering app information via social media sites, simply post or tweet a specific question.
Whether you're looking for an app that'll help you budget your finances or a celebrity gossip app, narrow your search to a handful of contenders, then inquire about those apps socially.
Setup Alerts and Notifications
Social media can do the app search legwork for you when you set up Twitter alerts that correspond with the category of apps you're interested in.
So, anytime twitter users such as app developers mention an app that falls within your alert specifications, you'll know about it.
Likewise, Facebook offers a notification feature that'll alert you about posts and comments that relate to certain criteria.
Although it's not as specific as Twitter alerts, it'll certainly help you figure out who's talking about what when it comes to the world of apps.
Friend and Follow App Developers
App developers use social media sites just like everyone else to keep up with the online social arena.
And, considering app development is their pride and joy, it's not a bad idea to friend and follow app developers. Besides, they're literally on the cutting edge of applications and they're probably happy to help with your search.
In addition, Twitter has devoted feeds from a community of app developers called the Application Developers Alliance. By following ADA feeds, you'll be included in an ongoing app conversation, much of which will likely pertain to your app search.
Go Ahead and "Like" the App Store
There are plenty of app stores that have fan pages on Facebook, one of them being the great and powerful Apple App Store.
So, why not join the App Store Facebook fan page and stay up-to-date on everything there is to know about the application market.
When social media and app hunting join forces, what results is application satisfaction.
About the Author: Adam Groff is a freelance writer and creator of content. He writes on a variety of topics including technology, careers with business degrees, and social media.
Image Credit: 1.
No Replies
Feel free to leave a reply using the form below!
Leave a Reply