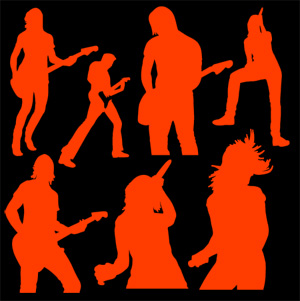 In today's fast-paced world of publicity and social media connections, you can freely and easily create and manage a professional PR strategy. Here's how to build and control your online presence by mixing social media channels and being everywhere where your fans can be:
1. Keep Your Fans Informed.
Channels: Myspace, Twitter, Facebook, ReverbNation, OurStage, email, etc.
Let your website be your PR agent. Your website or blog is your brand image and also the information hub for your fans and media sources that are looking for you. Keep it updated with the latest concert dates, bio and press photos. Needless to say, you must have the contact info for how to book you for a gig.
Also, don't forget your social media integration and have visible buttons for your social media pages. Probably the best advice is to offer exclusive content, such as posting a new release on Myspace or reveal a secret concert location on Facebook or Twitter. Cross promotion will give your fans enough reasons to visit all your social media channels.
2. Allow People To Sample Your Music.
Channels: Myspace, Facebook, SoundCloud, ReverbNation, OurStage, artist blog, podcast, online radios
The most popular music application on Facebook, iLike allows you to easily share your compositions with the fans, create your own iLike artist profile and more. You can also integrate a music player into your website, upload some of your best songs and ask people to rate and comment on your work.
Another idea is to submit your music to IndieFeed and enjoy free exposure to a constant increasing listener base. Or, create a list of 20 online radio stations where you want to send your music to and then send it. Also track down online music publishers where you can submit your work. "Song Writer's Market" is a good place to start searching for publishers that work with your genre of music.
Don't forget YouTube. It is global you can reach an amazingly wide audience. Record yourself playing your music and share it with the world. Also, try out the fun and easy-to-make Animoto clips and post them on your social profiles. How about recording your show and e-mail the compressed mp3s to your fans? Or post set lists after every live show. Work on spreading your music just as hard as you work on creating it.

3. Engage Your Fans.
Channels: Myspace, Twitter, Facebook, video, artist blog, email, etc.
Dedicate time to developing genuine relationships with your fans and followers. Do it personally whenever it's possible, start a conversation on Facebook, show real interest in their preferences and always ask for feedback.
Don't make everything about you. Ask them how they are doing and do things that make them feel excited. One idea is to photograph the audience and then have your fans tag themselves in the audience on Facebook. How cool is that?
Track Your Progress
To build a strong PR strategy, you must establish metrics, set goals and monitor your progress. One of the easiest ways to do so is setting Key Success Indicators (KSI) for all your channels.
For example, you can track popularity by the number of Twitter followers, number of YouTube channel views, number of blog subscribers etc. Track the KSI thoroughly to see how you're doing in each of your tactics, so you can adjust your strategy where needed.
Nitin Aggarwal is passionate Internet marketer. He has his own company-Offshore Ally, which is a great online source of virtual assistant and SEO link builders online. He also enjoys blogging, gaming and music. Connect with him via Twitter.
2 Replies
Leave a Reply