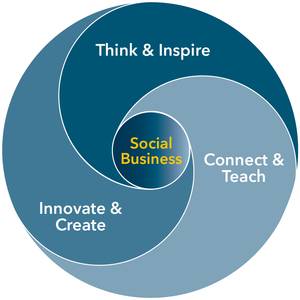 In a day and age of ever-growing social media, how much importance does your business place on this subject?
Marketing one's company is more important than ever given the struggling economy and the fight for every business dollar. Is your company positioned to take advantage of the social media revolution?
If you are not currently using social media or are and finding it not to be effective, ask yourself the following:
Why are you or aren't you using social media?
If using social media, what is your company's primary goal behind using it in the first place?
If using social media, how often a week do you use it and what are the resources you are putting towards it?
If using social media and not getting the desired results, what do you feel is not working?
Assuming that you have a company Web site that is easy to navigate and reader-friendly, social media is a great way to promote it. Remember, business owners should use social media sites to enhance, not replace company sites.
What Are Some of My Social Media Options?
If you're not using social media to this point, here is a look at some of the different options and how they can work for your business:
Facebook – This is a good option when it comes to sharing information with others regarding your company. If you are opening a new eatery, take some photos of the grand opening and post them here. This is a great way to create a buzz about your business and share the good news with other users. The site can also be worthwhile for business owners in allowing them to talk to their target audiences and zero in on their needs. According to Facebook, the company has more than 600 million monthly active users.
Flickr and YouTube – These two sites are good options for uploading photos and videos on your company. As noted above, if you have an event and you shoot photos/videos etc. spread the word on these two sites. If you choose one or both of these options keep in mind that they need to be professionally done. Your business image and your personal image are two entirely different things, so anything uploaded for your business needs to be professional. You can also invite viewer feedback from the images that you post, but be prepared for the occasional negative remark. According to Flickr, it was hosting more than 5 billion images as of September 2010. Meantime, YouTube reportedly serves up more than 2 billion videos daily.
Twitter – This site is great for sharing your professional world, of course in 140 characters or less. When tweeting about your business, do it in a professional but personal way. As Twitter continues to grow, it is a great tool for businesses to tweet what's going on at their companies and retweet industry-related matters. Many of the nation's top businesses have Twitter accounts and that is not by mistake. According to Twitter, the site has some 200 million users.
LinkedIn – A great site for businesses to network, here you can publicize yourself as an entrepreneur, reaching out to other like-minded pros that could end up being your partners or customers. LinkedIn reports as of early 2011 that it has some 100 million users.
Whatever the social media venue/s you choose to promote your business, the key is to updating your site regularly, as repetition proves important.
Another way to score points is by rewarding those customers who have been loyal to you. By using social media, your business can offer coupons and other deals to customers, thereby maintaining their likelihood of staying with you.
Finally, when using social media to promote your business, be careful to not overdo it.
There is nothing worse in the Internet world than being viewed as a spammer, something that could lead you to losing countless followers and alienating some in the process.
If your business is not being very social, chances are you are a step behind the competition, so get caught up today.
Dave Thomas is an expert writer on items like online marketing and is based in San Diego, California. He writes extensively for an online resource that provides expert advice on direct mail companies for small business owners and entrepreneurs at Resource Nation.
8 Replies

Leave a Reply