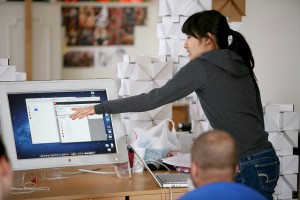 If you're in college, it's very likely that you'll need to participate in an internship before you can graduate. Internships are a great way to gain some valuable experience in the career of your choice, and many companies will not hire a candidate without internship experience.
Years ago, finding an internship usually required reaching out to different companies and asking if they could use an intern, or you'd  have to select from a list of companies who submitted their interest to your school.
Today, finding an internship is actually much easier, thanks to the power of social media. If you want to find an internship, here's how social media can help.
Join the right sites.
About 37% of companies are using social media to find interns, and they're mostly turning to Facebook and LinkedIn for this task. If you are interested in gaining an internship, make sure that you have a nice profile created on both of these sites.
Create a great profile.
Be sure to discuss what you have to offer, what your best qualities are, and what field you're interested in. You should also be sure to put your educational experience on there as well as add any groups or clubs that you're involved with. The more information you can add about your qualities and personality, the more an employer can learn about you.
You need to be very careful with what pictures you have on your Facebook page. Make sure that all the pictures that are on the site are appropriate and would not cause a potential employer to dismiss you from their choice. The pictures of you drunkenly passed out at your sorority or fraternity party will not be enjoyed by a potential employer.
Again with Facebook, you want to make sure that your current and past status updates do not show you in a bad light. Make sure that all of your posts are appropriate and refrain from profanity. What you post says a lot about your character, and companies are looking at this to get a better idea of who you are.
Use your connections.
Social media allows you to network with different people and different companies, and you can use this as a way to try and locate an internship. Reach out to your friends and followers and ask them if they know of open internship positions. You may be surprised at what your following can tell you.
Reach out to companies.
If there is a company that you really want to intern with, make sure that you are following them on social media and reach out to them directly to see if they have anything available. Most companies are very responsive on social media, and they can let you know if they have something available for you or, if not, they can tell you when they'll be looking.
Get references.
Let your friends and connections know that you're trying to earn an internship and ask them to leave references for you on your social networks. Tell them to share why you would be a great candidate for an internship and all of the qualities you possess. Employers really enjoy hearing what other people have to say.
It's a good idea to use social media to help you find an internship and gain valuable experience that can be beneficial for the rest of your career.
Jacob Smith is a marketing expert writing in tandem with SEOMap.  He specializes in keyword strategy and keyword analysis.
Image Credit: 1.
2 Replies

Leave a Reply