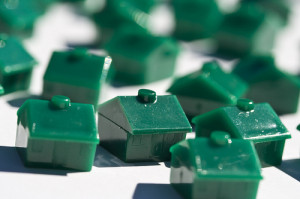 With the advent of the Internet in the not too distant past, consumers found a million (literally more) ways to shop for goods and services.
While many shoppers still use the old-fashioned means of shopping, i.e. through word-of-mouth, watching commercials, viewing newspaper or magazine ads, etc. others have turned online to find what they need.
As a result, those businesses who have notable websites and/or who use social media, must make sure they are getting the attention of those they are looking to sell to. If they don't, they stand to lose out on a better return on investment (ROI), not to mention fall behind their competition.
One product that does not get the publicity as much as others do is title insurance.
Wait, you haven't heard of title insurance? If that's the case, you probably are not alone. In fact, it is likely one of the least known yet important forms of coverage many consumers should have.
For those not familiar with this important line of coverage, title insurance provides protection to the buyer of a home or other property, giving them coverage against potential claims and liens. Without the protection (see more below), a buyer could find themselves facing significant court expenditures in order to defend their claim to a property.
Consumers should also note that their rights to the property could be restricted, in cases like where a utility provider seeks to place a power line across the property, or another claimant to the property, one who did not come forward originally, now wants to claim a portion of the land.
Although there is a sizable number of agents who sell title insurance, spreading the word about what they do certainly can't hurt them.
And for the consumer who needs such coverage, knowing where to look for the policy before buying a new property obviously helps.
So, should you find yourself to be one of those consumers, keep the following in mind:
* Real estate publications – This can and should be a great venue for title insurance companies to advertise their offerings. Given the connection between real estate and title insurance, it only makes sense that the latter offer their services here. You can also turn to real estate websites in your community who may in fact be working together with a title insurance agent. Also look at any real estate newsletters or emails to see if they can point you in the direction of a title insurer;
* Social media – Even though some business owners have yet to find their seat on the social media train, the train is picking up speed, so they better not wait too much longer. Visit the social media sites of any title insurance companies that grab your interest, looking to see how they engage with customers. If they are quick to assist customers with their issues and questions, great. In the event they do not respond and/or provide little or no information when doing so, this could be a harbinger of things to come relating to their overall customer service approach;
Company websites – Last but not least, how updated and relevant is their company website. The site should include educational materials on title insurance, why you need it when buying a property, what the rates are likely to be, and what potentially can happen if you do not have the coverage. Much like a company's social media efforts, see if the website is helpful or not to your needs. While you can get basic title insurance information from your state insurance department's website, the title insurer you are considering should be able to supply you too.
If you find yourself in need of title insurance moving forward, knowing where to look is half the battle.
About the Author: With 23 years' writing experience, Dave Thomas covers a variety of small business and consumer topics, including how to find the right title search.

Image Credit: 1.
No Replies
Feel free to leave a reply using the form below!
Leave a Reply