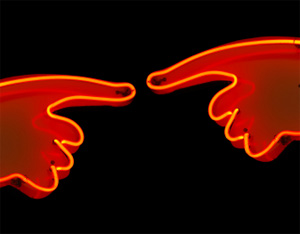 If you're involved in any kind of online marketing, or if you just happen to be aged 14, then the chances are you will have active Facebook profiles, Gmail accounts and you are constantly Tweeting your thoughts to the world. It's only natural for those whose lives are absorbed by climbing the Google rankings and getting their latest website a huge following to be constantly logged in to their various social media accounts.
It is this mentality that Google are hoping to tap into with their recent launch of the +1 button which they hope will rival the success of the Facebook "Like" button.
While this is all great if you are constantly signed into your various social accounts, the reality can be a little different if you are browsing the net at work. So how will all of these changes affect the B2B marketer and do you need to change your approach to become more social?
The "Signing In" Conundrum
It is more and more common for people to be signed-in to their Facebook and Twitter accounts when browsing the net at home, with both social networks showing regular increases in users. As Google seeks to banish the spammers and come up with a more reliable way of pointing their users towards websites that they will actually like, they have started incorporating websites that your friends and followers on Facebook and Twitter have liked, giving you personalised recommendations as part of your search engine experience.
This is great if you are signed in to Facebook but at work this could prove to be a bit of a problem.
Unless you are employed in web marketing, the chances are that your boss will flip out at the sight of you visiting Facebook in work time. Despite the fact that more and more businesses are turning to the likes of Facebook to sell their wares, the over-riding impression of social networks is still as a means of chatting to your friends and checking up on your old girl/boyfriends, so the sight of a Facebook window open on your work PC means only one thing, slacking!
The trouble with many of these developments in search engine rankings is that they depend on the user being signed in to many accounts for them to work, something that is not always possible when you are in the office. So given this fact, do B2B marketers really need to worry about improving their "Like" count and dragging themselves into the world of social networking?
The Future of Social Search Integration
Google has always relied on one thing more than any other to guide its rankings, links. In the world of search engine marketing, links are like gold and the better the links the more they are worth to a website. But with the advent of social networks, this ranking algorithm is becoming increasingly flawed and a principal that chooses to ignore the millions of recommendations that occur through Facebook and Twitter is surely only doomed to failure.
Rather than seeing the current integration between Google and Facebook/Twitter as an end in itself, with the user needing to be logged in to both their social network and Google accounts to see an effect, it should be seen as more of a work in progress. This is a sign that Google are finally starting to take what is shared in the social sphere seriously, and those in the B2B world should see this as a sign to start getting their social house in order.
Although at the moment it is hard to see how the latest integration of social media will affect B2B rankings, it can only be a matter of time before what people are Tweeting and Liking will help to drive how the results appear in the search engines, in fact it is already happening on Bing. Rather than seeing these changes as an end in themselves, see them as a sign of the direction that Google is about to take and get your social house in order before it starts to affect your online business.
Alan Grainger is an in-house B2B web marketer and manages SEO strategy for The Corporate Gifts Company, a specialist in the business gifts sector. He writes articles giving an "in the trenches" view from an in-house B2B SEO department and you can contact him on Twitter @alanjgrainger.
4 Replies

Leave a Reply