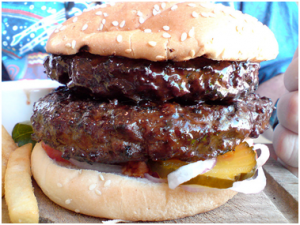 There is a well known saying that we eat with our eyes, in which case it is no surprise to see the new food based app Burpple. If Instagram had a baby with Pinterest, Burpple would be its offspring. Cute little chubby funster baby Burpple.
Unfortunately I don't have Burpple yet, because it hasn't yet been released on Android, which is a shame because we all know that Android users spend more on going out to nice restaurants and enjoying food.
The reason I know this is that iPhone users in the UK are too poor to afford anything once they have paid off their monthly contacts that last long enough to be passed on to their children.
It's good to share
Burpple is a natural progression of social sharing, and they have analysed what people are already using the available technology to do. Apparently, according to Burpple's own blog, 1 in 4 Smartphone users already photograph their meals. That's a lot of content sat on your phone waiting to be shared.
There are some exciting ways that this app could, and dare I say will, be adopted by professional food industry.
For an industry that relies heavily on visual stimuli for their income, restaurants are normally bare of any presentations of the food they serve. Sure, critics gain our trust and describe in a million ways the perfect texture of puff pastry, but apart from these clues we are left to decide on what food we order on reputation, prior knowledge, or the crafted words in a scripted font on the menu.
Burpple is not primarily a food review app, but the food industry stands the most to gain (or lose) by the information that will surely be generated in the following months.
Short of becoming a sales order processing system in itself, Burpple can stimulate a food industry that starts at the source and ends on your plate.
Healthy Competition
As with any social media outlet, there is an underlying sense of competition that will stimulate sharing through the app. Everybody has their speciality when it comes to making food, I am no exception, having mastered the roast potato. Soon we will have middle aged women locking horns over who has the best dauphinoise potato. The best bit is, no-one can lose because you can't taste a picture. The competition goes on, more sharing takes place, Burpple makes more money.
Essentially then, Burpple suits the chef with a flair for presentation. That will not be enough to sustain a successful restaurant but it will be enough to get people to try your food at least once, and if you are a good enough chef, once is all you will need to demonstrate your culinary habits.
Personal Food Diary
Burpple may yet be adopted by a very different market, the dieters. The marketplace for dieting apps is huge and one that can monitor and share healthy benefits has the capacity to reach out to a huge audience. Alternatively, the element of competition may drive people to create abominations of meals all probably wrapped in bacon strips… and more bacon strips.
I'm hoping that my own personal experience on Burpple (whenever it arrives on Android) will end up as one big food diary. My own very hungry caterpillar story.
James Duval is a tech blogger who writes for Sparkstone Technology about the real life applications of mobile technology, and how we are using social networks in ways that we never thought we would.
Image: Karl Baron
One Reply

Leave a Reply