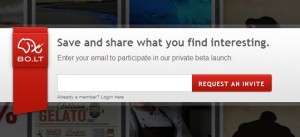 For those who are in tune to the latest social media sites that allow you to share your content; then BO.LT must have crossed your path.  It is the threat to Pinterest in the fact that instead of sharing images a user can share their content and link their sites to BO.LT.  It is still in beta and you have to request an invite; tip here is to "like" them on Facebook and add a comment to gain an exclusive invitation to join, you may have to ask twice but it is worth it.
How BO.LT works
BO.LT is like a content sharing service where you can make a copy of a website and then edit the contents that show you as the sharer; then you can share that site among the other social networks they are entwined with. The cool thing about a new site like this is being a part of the initial buzz; people will see the "BO.LT" share and want in. Another cool factor of the site is that it will analyze the clicks that the new links gets; meaning you can see how the site contributes to your traffic.  There is some concern for spammers getting in and copyright infringement; meaning a user would share a site unauthorized of its ownership; however, the fine line being one that wants to share other content and trying to edit the site to their advantage.
How to sign up and share content
Once they approved you to join; it is as easy as linking your Facebook or Twitter account to transfer your information; which is highly recommended since this will show all your friends you are cool and know what is hot to join. Next, you choose the URL you want to share and paste in the correct box; you can modify the link to say whatever, then create a comment and add other social media networks to share the link.
BO.LT is the keyword advantage
If you know how important anchor text and certain keywords are that link back to your site, then you now realize why BO.LT is going to reign in sharing content.  If you share a link and then create a power long tail key phrase to your site, make a keyword rich comment and share it on your other social platforms; then you can already see how this super social site will boost your organic traffic.  Before you start linking to your heart's content due some research on your niche and keywords to gain the best results; and it being a social site don't forget to be involved in the site itself.
This post is written by John Lewis and he works at Luminous Solutions as a writer. Luminous Solutions provide payday loans and 6pm coupon code.
No Replies
Feel free to leave a reply using the form below!
Leave a Reply