Hope some of you might have started to see a decline in the participation in your Facebook fan pages.  Have you thought the reason behind the decline ?.  It has been in existence for some months but people are just starting to notice the fact.  The same scenario applies to Facebook profile pages as well. You won't be noticing updates from some of your close friends and some brands you adore. What made this changes?
A new change in Facebook algorithm have resulted in this change. Now comes the big question "How can you get rid of the new change ?".  Facebook have started to think that you are not interested in the particular person or the band. The reason behind this is low interaction between the person or low visit to the brand's page.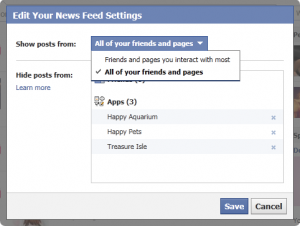 What do you need to do to get rid of this ?. On your "News Feed" home page, click the "Most Recent" title on the right of the News Feed, then click on the drop down arrow beside it to show the drop-down menu and select "Edit Options." Click on "Show Posts From" and change the setting to "All Of Your Friends and Pages."  Xtreme Cage Wars MMA has created a Facebook Event to make users aware about the new update. It is highly important that you make the above change else you will be loosing a lot of updates from your close friends on Facebook.
Businesses that rely of Facebook fan pages should take the above change seriously and should find ways to inform their fans about the new Facebook news feed change.
5 Replies

Leave a Reply