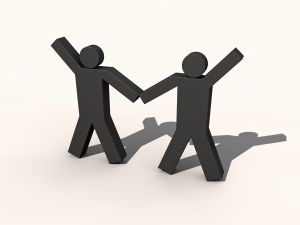 Location-based social networking is one of the newest trends to hit the web. Similar to traditional social networks, location-based networks allow users to broadcast to their contact list. But where Facebook and Twitter allow you to broadcast your thoughts, these other networks allow for the broadcasting of your location.
These location-based networks can make it incredibly easy for those on your list to find you, as well as help others learn about places of interest in their own town or in one they plan to visit in the future. And looking online will reveal several options for location-based networks, three of which are below.
Foursquare
Although it is a location-based social network, Foursquare also touts itself as a great companion when attempting to make decisions about places to eat, landmarks to visit or movies to see. The tool's over 20 million users can also earn rewards and receive discounts on their phones when they check into various places.
Yelp
Founded in 2004, Yelp seems to have successfully combined location-based social networking with business reviews. Yelp users can log in from their home computer or mobile device to submit their thoughts about a restaurant, mechanic or virtually any other business they've just had an experience with.
Facebook Places
Yes, even traditional social networking sites like Facebook have gotten on the check-in wagon. Facebook places allows users to not only share where they've been, but check in other friends who may be with them, as well as uploading photos to help bring their experiences closer to their contact lists.
But just as with anything that involves online communication, there are caveats. Those looking to use location-based social networks should be aware of the dark side of these tools which can lessen both their enjoyment and their value.
Should You Share?
This is a question which plagues many who wonder about the usefulness of location-based social networks. It's a well-known fact that, while it can be a good thing to share things with your contacts on social networks, there could very well be those who use that information for sinister purposes. And if past news reports are accurate, there have been users who were robbed after posting status updates about being on vacation.
A Closer Look at Contacts
Before you share anything with anyone on any social networking site, giving your contact list a second look might be a good idea. The person who was robbed after posting information about their empty house allegedly had over 600 people on their contact list. Were all 600 of those people individuals that could be trusted? While this is impossible to know for certain, it's something to think about when using a location-based social networking site to let people know where you are.
A positive thing about location-based sites is that many of them now offer a level of privacy which allows users to control who appears on their contact lists and receives updates about their locations. The Foursquare site allows for private check-ins that friends cannot see.
Altering Your Usage
Although many sites will give you a list of suggested procedures for when and how to share your information, don't assume it's the best way to do so. For example, instead of logging into your Foursquare account and checking into a location when you physically arrive, consider checking in after you've returned home. This will allow you to share where you've been with friends, without the risk of unsavory contacts knowing your every move at all times.
You could also lie about where you are, but when the point is to provide your thoughts on your experience as users do on Yelp, there is really no point to fibbing about your location.
The bottom line is that location-based social networks are much like their social networking-only counterparts. The option is there to share, but the user is in the most control of how and when they share their data, as well as with whom.
Guest author Elizabeth Brosuga is fascinated by the psychological aspects of social networking, and is proficient in the technical aspects as well.  She also writes on a variety of technology-related topics such as helping consumers analyze and choose broadband.  You can check out some of the work she has done at http://www.highspeed-internet-providers.com/isp-area-3.html.  You can also find Elizabeth on Google.
2 Replies

Leave a Reply