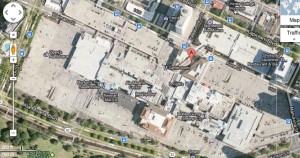 Pictured above is the Ala Moana Shopping Center, which is the largest shopping mall in Hawaii, the 15th largest shopping mall in the United States, and the largest open-air shopping center in the world. With over 300 stores and over 56 million visitors per year, heading to this shopping center may actually require a map. This need for internal maps is trying to be met by several companies such as Aisle 411, Micello and Meridian.
While Google introduced in November 29th, 2011 Google Maps for over 20 airports, several hundreds of Home Depots and for every single Ikea stores in the U.S., it is still not enough. Therefore, it is not a surprise that Bloomberg Businesweek claims that "the race is now to map the Great Indoors".
The Support of the United States Government
During his 2011 State of the Union President Barack Obama included a line on indoor mapping: "It's about a firefighter who can download the design of a burning building onto a handheld device."  Furthermore, Mr. Aneesh Chopra, Federal CTO of the U.S. Government a.k.a Obama's Tech Czar, encouraged the current administration to apply indoor mapping technology towards healthcare and government facilities. Mr. Chopra recommended one company's technology in particular: Micello.
Micello, a Leader in the Indoor Mapping Industry
Founded in 2007 and headquartered in Sunnyvale, California, Micello is the leading provider of comprehensive indoor venue maps for mapping and navigation companies, retailers, hospital groups, mobile carriers and application developers. As of January 2012, it has digitized over 8,500 locations, including 100 airports (take that Google Maps!). This company has caught the attention of well-known tech sites such as VentureBeat, TechCrunch and ReadWriteWeb and its email style was featured in Guy Kawasaki's book, Enchantment.
The startup charges clients about $50 per month per map, however it does offer discounts to companies with more than 25 locations.
Try the Micello Map Network at http://www.micello.com.
You can read more posts from Damian at SexySocialmedia here. Damian invites you to visit GoodOrBadEmail.com, a fast-growing and fun email rating community. Good Email. Bad Email. You Decide. Follow them on Twitter at @GoodOrBadEmail.

No Replies
Feel free to leave a reply using the form below!
Leave a Reply