LinkedIn is the best platform for your online professional identity. A complete and up-to-date profile in LinkedIn helps you gain new professional connections and job updates. The "Improve Your Profile" Tool was launched to help professionals personalize their profile. This tool recommendations help you redesign your profile page.
The PDF downloading capability is going to help every LinkedIn user. The printable and downloadable PDF document is very useful for recruiters looking to fill vacancies in their company or their clients company.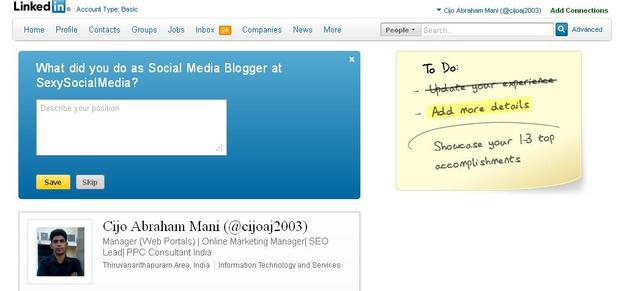 The most helpful feature is the checklist guide on the right side of the tool that recommends steps. The tool is customizable and is being constantly updated. The PDF downloadable feature helps you quickly create an offline profile whenever needed. You don't have to carry your resume in a Pen-drive or store it in emails.
Here are some quick tips to make your LinkedIn profile more attractive to recruiters
Catchy Headline
Compelling Summary
Professional Experiences
Relevant Specialties
Education Qualifications
Websites and Blogs
Interest & Hobbies
Groups & Associations
Honors & Awards
Personal Information
Checklist
Do LinkedIn Profile SEO to get more visibility. A LinkedIn URL helps you to get more visibility. Make use of the LinkedIn URL feature and preserve your online identity.
The 'Improve your Profile Tool' is going to help every LinkedIn user whether they are an heavy user or a random user. The new look seems to be live for everyone. Head to your LinkedIn profile and give your LinkedIn profile a make-over.
Feel free to add your comments here. You can follow me on Linkedin – Cijo Abraham Mani
8 Replies

Leave a Reply