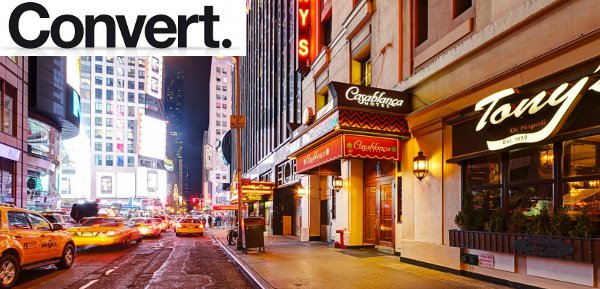 In hospitality marketing news, leading hotel marketing group, WIHP Hotels, has been engaged to gain visibility for Library Hotel Collection, a New York boutique hotel group set to launch two new properties.
WIHP Hotels will help Library's not only with their recent rebrand, but via WIHP's Convert website-marketing suite for independent hotels. The coming Aria Hotel in Budapest and Hotel X at Exhibition Place in Toronto, along with Library Collection's existing properties, will be promoted via the super fast Convert sites. Existing hotels in the chain's stable include; the Moroccan-themed Casablanca Hotel; the iconic Library Hotel at Madison and East 41st Street in New York, which inspired the new name of the group; romantic retreat Hotel Elysée; and the urban, sophisticated, Hotel Giraffe at Park Avenue South. Adele Gutman, Vice President of Sales, Marketing & Revenue at Library Hotel Collection, offered this additional comment on the news:
"Many factors went into deciding to partner with WIHP on the design, SEO and hosting of the new set of websites for the Library Hotel Collection. First, on an emotional level, we were moved and inspired by the sheer beauty and visually expressive quality of WIHP's previous work. However, we know we are not creating a work of art but a work of commerce, and after speaking to other hoteliers who have worked with WIHP, we could clearly see that they had a proven track record for helping their hotels achieve an exceptionally high percentage of direct sales on the brand websites."
WIHP's Convertsites have been widely acclaimed since their release at ITB Berlin. The website platform is comprised of; a streamlined navigation; state-of-the-art, high definition, image galleries; and user centric design, not to mention blazing load speed. Convert is the first hotel website to completely integrate the SynXis booking engine that reduces booking time by as much as 44%. All in all, marketing savvy to website selling points, the combination of WIHP and boutique hotels like the Library Hotel Collection, make for a powerful guest attraction.
Immersive experience, leading edge marketing efficiency, the power of Social Media, and the coming multilingual release of the new Library Hotel Collection websites, all adds up to some powerful news in the T & T industry, especially for smaller, independent hotels. Integrating mobile capabilities, support for smart devices of the iOS and Android platforms, and more ROI drivers, WIHP seems to be a force to watch in the space.
For more information on this news, check out WIHP via Twitter, @WIHPhotel; Facebook; or Google+. Convert website builder is available for hotels worldwide at http://www.wihphotel.com/convert. Alternatively, check out the press release here.
No Replies
Feel free to leave a reply using the form below!
Leave a Reply