If you spend too much time letting everybody what you are listening to via Twitter and Facebook, there is a new great service for you: Turntable.fm. Just released in June 2011, this service has become the talk of several professional musicians such as Talip Kwli and Diplo. Apparently even Facebook CEO Mark Zuckerberg has been caught on the site listening to the soundtrack of the room "Coding Soundtrack".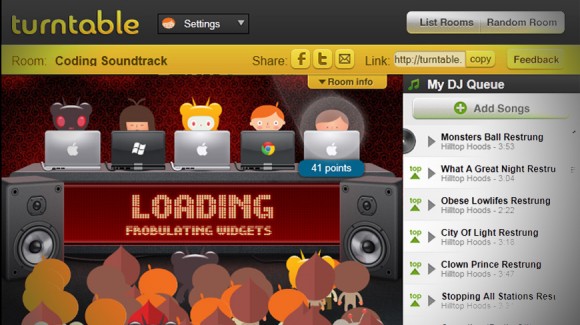 Based out of New York, Turntable.fm is a series of listening rooms where users set up or join rooms where they can play music for each other, chat, and vote on each other's selections. On each room, up to 5 users at a time line up as DJs and play songs from a big library of tracks provided the content-streaming company, Medianet, or from their own music collection. Users in the room rate the song as either "lame" or "awesome", which determine the amount of points a DJ can get. Also, anybody can become a fan of anybody. So, Turntable.fm makes listening to music a social game.
While everything seems to be going well for Turntable.fm, one major drawback is that its parent company, Stickybits, has no licensing agreements in place with the big four music labels: Universal Music Group, Sony Music Entertainment, Warner Music Group and EMI. If Turntable.fm would be interested  in a licensing agreement, it would be even harder for them to make any money. In the other hand, if the company continues not to pay for music licenses, record companies could easily start harassing and suing Tuntable.fm.
By Damian Davila, author on technology startups at idaconcpts.com. He really digs the Indie While You Work room on Turntable.fm. Follow him on Twitter at @idaconcpts.
10 Replies

Leave a Reply