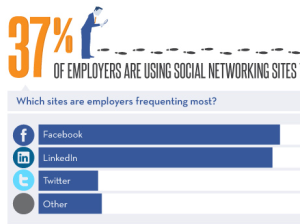 According to a 2012 infographic by CareerBuilder, 37% of employers use social media to check out job candidates.
Of those employers, 65% said they were checking to see if candidates presented themselves professionally, 45% wanted to know more about the candidates' qualifications, and 51% researched to find out if potential employees were good fits for the company's culture.
With social media creeping into all aspects of life – including job seeking – how can you make sure your online profiles help land you that job?
How Your Online Presence Can Hurt You
In that same CareerBuilder report, 34% of hiring managers found unsavory information in applicants' profiles that led to those candidates being turned down for jobs.
Things that put black marks on a candidate's application included:
* Provocative or inappropriate photos or information;
* Evidence of drinking or drug use;
* Poor communication skills;
* Badmouthing previous employers;
* Evidence of lying about qualifications for the position.
Clean Up Your Profiles
With that in mind, your first step toward finding a job via social media should be to clean up your profiles — and not just on the networking sites you're using to look for a job. Potential employers may search for you on other sites, so make sure you present a professional image wherever you go online.
Start by getting rid of photos and posts that indicate drinking, drug use, or other inappropriate behavior.
On Facebook, make sure you've got your privacy settings buttoned down so no one who isn't on your friends list can see your personal posts.
Once you've done some cleanup, run a search on your own name to help make sure you haven't missed anything.
Techniques to Land a Job via Social Media
Now that your online profiles are cleaned up, it's time to start job hunting. Here are a few tips to make things go smoothly:
* Let people know you're looking for work. You can post about updating your resume, and be sure to mention what kind of job you're seeking. Someone among your followers might know (or be) a hiring manager looking for a candidate like you;
* Turn the tables and do some research on hiring managers. LinkedIn and Twitter are great resources for this. LinkedIn can help you find out who the hiring manager is at a company you'd like to work for, and both sites can help you learn about his or her personality and interests. This way, you can tailor your cover letter to the manager's needs;
* Make Twitter work for you. By joining industry chats, you can grow your professional network, show off your knowledge and expertise, and stay up-to-date on changes in your industry. It may also help you get noticed by a hiring manager.
Your social media presence can either be a powerful tool to help you land a great job…or it can effectively shoot your job prospects in the foot.
Which it will be depends largely on how you present yourself in your social networking profiles.
About the Author: Freelance blogger Angie Mansfield writes about a variety of subjects for both small business owners and consumers. Her work has covered things like marketing, management, and how new grads can find bachelor degree jobs.
Image Credit: 1.
One Reply

Leave a Reply