If you:
don't have the patience for eHarmony,
have a crush on somebody on your Facebook friend list but she's already in a relationship, and
can wait for a while.
Then, here's the solution for you: Breakup Notifier.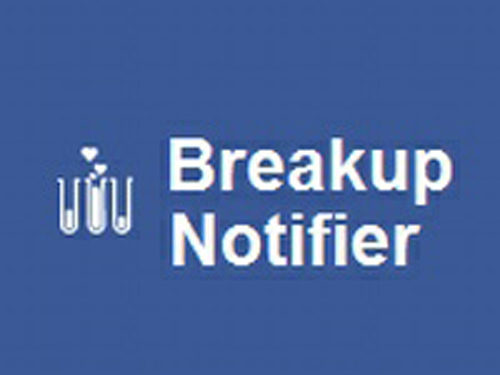 With the tagline: "You like someone. They're in a relationship. Be the first to know when they're out of it.", Breakup Notifier has risen up in popularity with over 10,000 likes and over 2,700 tweets (as of February 28, 2011). However, the true figure that reveals the popularity of Breakup Notifiers is that more than 100,000 users signed up for the application within the first 24 hours after it was made available.
However, the rapid rise of Breakup Notifier was suddenly held to an abrupt stop on February 24, 2011 as Facebook suddenly disabled the app, which had reach a total of 3.6 million users according to PCMag.com. A Facebook rep told PCMag:
Breakup Notifier was temporarily disabled by one of our automated systems, which we have in place to ensure apps on Facebook Platform provide positive user experiences. These systems have worked well, cutting spam by 95% last year alone. We're currently looking into the issue and have reached out to the developer.
The Beverly Hills based developer of Breakup Notifier, Dan Loewenherz, claims that he launched the app just for fun on February 21, 2011. By comparison, Facebook's most popular app, FarmVille, has around 54 million active users, according to AppData.
After talks between Loewenherz and Facebook, the app was reinstated on February 25th and is currently available for anybody that allows it access to his/her Facebook data.
Stalk your exes through Facebook at http://www.breakupnotifier.com.
4 Replies

Leave a Reply