According to the latest research, the Baby Boomers using social media has increased enormously in 2010 but despite the rate of growth less than 50% of the Baby Boomers are registered on Social Media.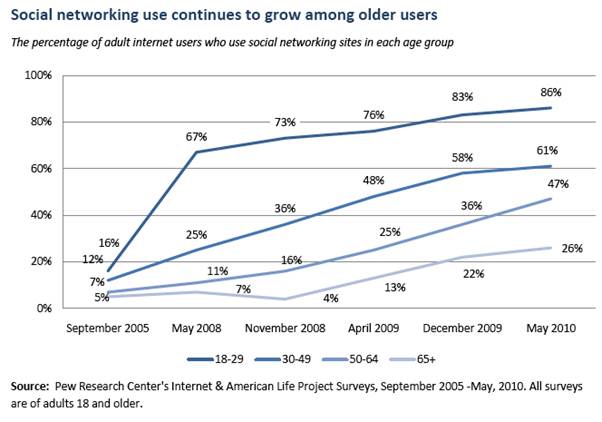 Why is this when Baby Boomers created the technology so many Generation X and Y people call normal?  Steve Jobs of Apple is a Baby Boomer.  Bill Gates from Microsoft is a Baby Boomer, Larry Ellison of Oracle is a Baby Boomer,  Sir Timothy John "Tim" Berners-Lee, the man who made the web possible is a Baby Boomer.
Baby Boomers grew up in an era where they learned how to wait for news in a letter.  Phone calls were a special treat and often expensive. Baby Boomers write cheques and go to a bank to do their business. Once upon a time shopping took place only for a few hours a week (40 maybe 50, as stores opened for eight hours a day, five days a week.
Sunday was for going to church and for family and friends.
Saturday was for housework and children's sports.
Most homes had only one car.
Mothers worked at home caring for the family but when they were on their own they survived somehow.
Television was only a few hours a day and many homes did not have television until some Baby Boomers were in school.
Today, everything seems instant. We have instant noodles, microwave meals, gourmet meals in the supermarket freezer, fast food joints and social media to contact our friends, family and colleagues. And then there is the world of mobile.
The instant world is still approached cautiously by the Baby Boomers. But the number of Baby Boomers on social media is growing and as it grows I believe we will see some changes. The changes will include
The types of comments, how they are made what they say and how they say it
The posts – they will either be "preachy" or sharing lessons but they are unlikely to be very personal except in the sharing of pictures
As many baby boomers need to keep working, the internet and social media will become their way of contacting people and they know how to network offline and will bring good networking practice online.
So watch how social media continues to change as more and more Baby Boomers adapt to the internet to keep in touch with their family and also to survive economically.
Like it or not retirement will not be the choice for many Baby Boomers.
Roberta is a keynote speaker, facilitator and mentor. You can find her through http://www.budvietas.com which links to her blogs, articles, ebooks and speaking.
17 Replies

Leave a Reply