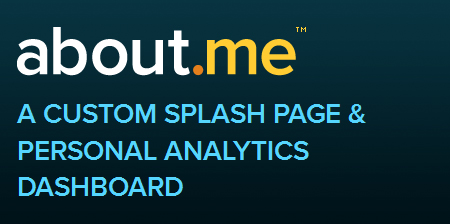 We all have lot of social networking and social media accounts. Have you ever though of a single platform to pull all your online scattered profile details to build a stronger online identity ? Have you been looking for one site to show updates from all your social media and social networking sites ? About.me have come up with the idea to integrate all your scattered profiles onto a single platform.
About.me lets you to create a personal, dynamic profile page that points users to your page which have all your social media and social networking content pulled into a single page. The new website do have a personal analytics dashboard as well. You can make your own custom splash page. It is so simple to create a personalized homepage. It is even more simple to pull all your social media and social networking information together.
A personal dynamic page will let you know how many people from each social network and social media website is really checking out the news and updates you are sharing. The about.me splash page helps you to understand how many people see your profile, where they're coming from and what they do on your page.
About.me  was founded by Tony Conrad, Ryan Freitas and Tim Young in December 2009.  The website is still in its private beta but they do send out new invites daily. If you have not reserved your about.me page then it is time that you do reserve the same before someone else grabs the URL with your name.
Reserving your spot is so simple, just need to enter your email address and URL and they will let you know once you are ready to create your own about.me page. If you are interested to create your own About.me profile go to http://www.about.me/ website.
Don't hesitate to check my about.me profile http://about.me/cijoabrahammani
3 Replies

Leave a Reply