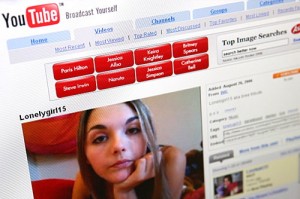 YouTube was created in February of 2005 as a video sharing website. Today YouTube has millions of members and millions of uploaded videos each day.
It was invented by three former Paypal employees and since sold to Google Inc. for $1.65 billion.
Steve Chen
Steve Chen was born in Taiwan in 1978 and eventually immigrated to the U.S when he turned 15. He went to the University of Illinois and found employment at Paypal after graduating. There he met fellow Youtube inventors Chad Hurley and Jawed Karim. Chen currently is Youtube's Chief Technology Officer.
Chad Hurley
Chad Hurley was born in 1977 and went to the University of Pennsylvania where he received a bachelor's degree in Fine Art. Later he gained employment at Paypal in the Ebay division. He is currently the Chief Executive Officer at Youtube. He was also noted as the creator of the trademark Paypal logo.
Jawed Karim
Jawed Karim was born in East Germany in 1979 and relocated to the United States with family in 1992. He went to college at the University of Illinois but left early to pursue employment at PayPal. He continued to work on his coursework during his employment and came out with a bachelor's degree in computer science in 2004.
Invention of YouTube
The three then employees of Paypal met and devised a video sharing website concept. Youtube's early days is left much to the recollection of its founders but it is said it was first developed during the early months of 2005. Both Chen and Hurley stated that the idea came about when they attended a dinner party in which they made several videos but could not find a way to share them with each other.
Initially, the three men acquired a investment loan from Sequoia Capital, the sum of US$11.5 million. They then proceeded to develop the website and made their headquarters above a Japanese restaurant and pizzeria. They purchased the domain name on February the 14th 2005 and developed the website during the subsequent months. During the remaining months within 2005 the site began to grow incredibly.
In July of 2006 the site was said to have up to 65,000 videos posted each day and up to 100 million views per day. In October of 2006, Youtube was purchased by Google Inc. In November of that same year the deal was finalized. Youtube operates now as a subsidiary of the Google company.
Today
Since Youtube's inception the company has made many leaps and bounds in Internet entertainment and video sharing. It was the first website to offer free online broadcasts of the Indian Premier League in 2010 and in November of 2008 made several agreements with CBS, Lions Gate Entertainment and MGM. This contract allows Youtube to post several full length films and shows.
Conclusion
It took inventors, Chad Hurley, Steve Chen and Jawed Karim only six months to make Youtube. Now, Youtube is ranked the third most visited site on the Internet closely behind Google and Facebook.
For more information on who invented YouTube, visit Who Invented It.
No Replies
Feel free to leave a reply using the form below!
Leave a Reply