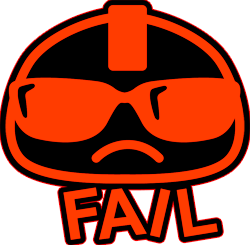 We all know that fails are all over the internet but when thinking about it there are actually many different types of the fail and it is this what has kept them going and popular over the years. (They are just so devilishly funny too.) Here are some of the categories that people tend to search on when thinking of the fail and there is a video related to each category underneath for your, err, enjoyment?
Sporting
These are often seen as the most popular fails and this can simply be put down to the fact that they are the fails that are often recorded the most. You can pretty much always guarantee that someone is going to be recording the sporting event that they are at which makes sporting the top on the list. Although I am not sure I find many of these funny you have to admit they still provide you with a good laugh.
Driving
Next on the list of highly sought after Fail videos comes the driving category and this can be anything from the normal driver somehow managing to spend thirty minutes parking a car to the extreme racer taking out not only their car but 10 other cars in the race too. Some of these are pretty gruesome but the world is full of dark humour like this. In the below video you will only see fails where no one was injured severely.
Gaming
As a big gamer this has to be my personal fail playlist and I am constantly on the lookout for videos of people failing at playing games. Halo 2 was a long time ago now but I have to say even though it has been 6 years since this video was first released it is still the one that had given me the most enjoyment. In the best interest of readers of this post I haven't included the Halo 2 video as the example but you can see it on YouTube by typing angry halo 2 player in.
Pranks Gone Wrong
Although not technically a fail video it is safe to say that people still search for pranks that have gone wrong (they are fails really right?) as they are hilariously funny. See if you can spot the surprise ending that comes at the end of this prank.
As a final point, everyone loves a compilation fail video and here are the top fails of 2010:
Ryan is an SEO working with car hire company Nationwide Vehicle Contracts and you can find him on Twitter @ryanogs
2 Replies

Leave a Reply