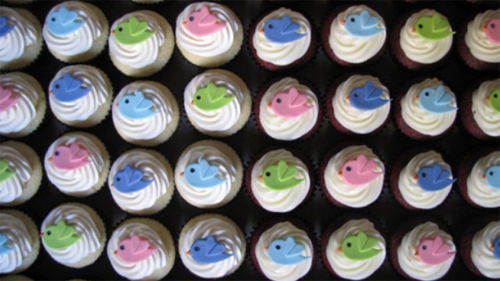 If you hear "search", you think "Google" – this is totally true. But sometimes you need some refresher and some alternative – this post will show you just that.
Below please find 3 absolutely cool Twitter search tricks that will help you save money!
Search by Emotions
Did you know that you can use smilies to enhance your search on Twitter? Add

or

to your search query and see how (dis)pleased the people are!
The best things about this trick are:
Emotionally-colored Tweets are likely to come from *real* people (not some Twitter robots that streamline the news automatically);
In many cases the smilies reflect emotions, so you can find real people's feedback on the product you want to buy.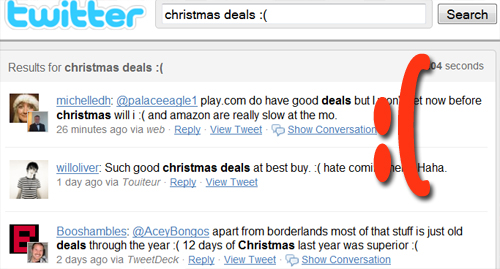 Search Questions
Another cool trick is to append ? (question mark) to your search query (with the space) to narrow results to related questions:
Find out what people ask to discover what you should really worry about when considering some big purchase
Discover interesting discussions related to your deals or coupon codes you are going to use.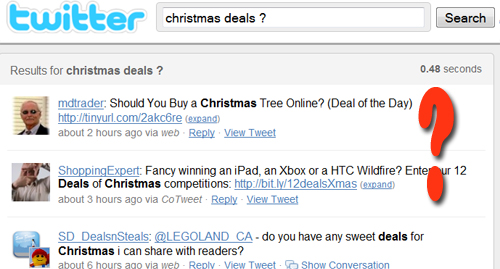 Exclude Links
I do tweet links a lot, so I have no right to complain, I guess but there are way too many links tweeted every second. Sometimes. because of those links you risk missing some important *real* people's feedback, reviews and opinions.
Do you want to only see Twitter conversations (with no links in them), -filter:links operator added to your search!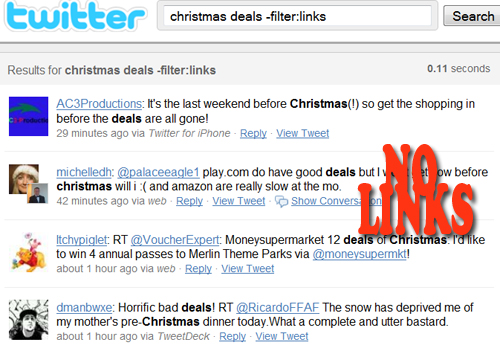 Useful, isn't?
Oh! And don't forget you can combine any of the above tricks to play even more!
cc licensed flickr photo shared by clevercupcakes
11 Replies

Leave a Reply