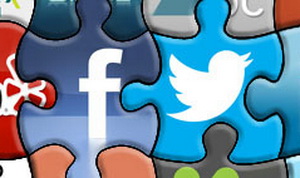 With the various decisions that those running businesses have to make regularly, you may think that which social media network they lean on would be low on the list of importance. If that's the case, you might want to think again.
Even though some companies remain oblivious to how social media can assist them promote their brand on a daily basis, many others have jumped on the social media training, riding it as far as it will take them.
While there are many different social media options to choose from, it does not take a rocket scientist to come to the conclusion that Facebook and Twitter for the most part rule the social landscape.
With that being the case, which site would be best for your company in order to promote your brand, engage with present and potential customers, and know what is being said about your products and services online?
In looking at the two, here are a few thoughts:
Facebook
By far the leader in social media (reportedly more than 1 billion members around the globe), Facebook certainly has dug its heels into the social networking landscape, including making some notable acquisitions that include Instagram, FriendFeed and Snaptu. The purchase of Instagram in 2012 made big headlines, amounting to an acquisition price tag of some $1 billion.
For the business owner who is a tad green when it comes to social media, Facebook is a great vehicle for promoting the company.
For starters, use the site to create a company fan page.
The fan page can serve as a linchpin to unveil information about your brand, your employees, and a means by which current and potential customers can interact with you.
Like any other social effort you embark on, make sure the company fan page is updated regularly, as intermittent activity will not cut it.
Lastly, you can and should run polls and contests on your Facebook company fan page, allowing for more interaction between you and consumers.
Twitter Is More Than Just for Celebrities
In looking at Twitter (some 100 to 400 million registered users – the number is hard to nail down because the company is not too promotional when it comes to announcing how many registered users it in fact has), while the site definitely appears to be the choice of celebrities, you don't have to be a celebrity in your own right to gain value from it.
Twitter is a great place to tweet out information about not only your products and services, but also links to information on your industry that will benefit consumers.
You can also benefit from Twitter by seeing who follows your company and who tweets about your brand.
Just like Facebook or any other social networking site you're on, you need to use it regularly, allowing you to build up a base of satisfied followers. That being said, do not tweet to the point of where you flood people's timelines with information on your company, potentially turning some or many of them off.
As a business owner, do you use both Facebook and Twitter to promote your company?
If so, what level of success have you found to date with one or both?
About the Author: With 23 years' writing experience, Dave Thomas covers a variety of consumer and business topics, including finding the best roofing repair.
2 Replies

Leave a Reply