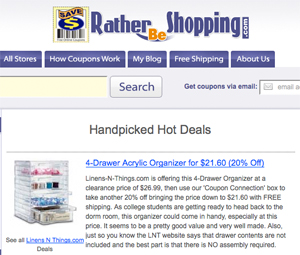 Another hot shopping season is almost upon us: "Back to School" and pre-Christmas shopping is almost around the corner. You'd better get ready!
Here's a hot new tool to add to your arsenal: Rather be Shopping
Rather be Shopping is the collection of hand-picked coupons and deals from around the Internet. The feature coupons by category (Apparel/Clothing, Gifts and Flowers, etc) as well as by retailer name (All Posters coupons, Office Depot coupons, etc).
The site offers "Email alerts" feature that lets you subscribe to any of the available retailers and receive email alerts about the new deals from the company you care about.
Another cool feature is "Hot deals" section which is described by the developers as follows:
Essentially we go out and find some great deals and then combine them with one of our coupons for an even better deal. We call it our 'Coupon Connection'. It is another great saving money shopping tool that we are excited about!
Sounds like fun!
10 Replies

Leave a Reply