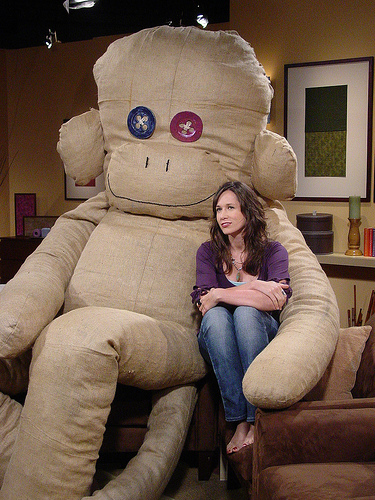 From playing an online version of a T.V show, to sitting in front of a camera competing for real – the transition is easier than ever before, but what implications does this hold for society at large?
It used to be that audience participation was limited to the annual panto, where cries of: "Oh no, he isn't!" were expected and encouraged. Nowadays our opinion is demanded constantly and from so many mediums that to not get in touch seems plain lazy. No more writing a letter to Blue Peter in the blind hope that it may get chosen and read out in 2-3 weeks time.
Is this interactive side to T.V shifting the power into the public's hands?
No longer do we need to covet the opinions of people on our screens on anything from fashion to current events; why idolise celebrities when one's own view can reach so many.
The next big thing is…You decide.
This is only the tip of the iceberg; Christmas number ones are decided not only through purchasing the album, but by supporting a certain contestant on Xfactor.
Artists are made famous on the whim of the masses, and then easily disregarded through the same power; shown by the fall from grace of 'The Nation's Once Sweetheart' Cheryl Cole. Once audiences failed to find Cheryl and her private relationships fashionable or interesting she was no longer our sweetheart.
Certainly, people on T.V are less untouchable now; there is a general consensus that fame can be obtained by anyone. The 'next big thing' is among the public, no random chance will project them to fame, but YouTube will…
A good example of the new two-way production of television is the fame found by Nikki Minaj- inspired nine year old Sophia Grace who is now a regular feature on the American chat show, Ellen.
Wave bye-bye to the script
2010 saw the relentless rise of 'reality' shows, like The Only Way Is Essex, Made in Chelsea and Desperate Scousewives permitting public access to their lives. The show's popularity probably stemmed from the cast being made up of real people. This real life sitcom is exciting for the public; they feel part of a story, and part of the action.
I do wonder just how popular these shows would have been without the publics' ability to effortlessly voice their love of the show, on mediums like Twitter.
Has the ease in which we can "follow" and interact with these newly risen celebrities had an effect on their notoriety?

If the only opinions actively voiced were those of distinguished politicians who felt that the lifestyles shown by the casts were not in keeping with the economic climate, then perhaps the shows would have quickly been shut down.
A case of over-sharing?
This easy access to fame seems to have distorted the amount that people share with their friends; with celebrity lives under constant scrutiny, perhaps we wish to feel as important and imagine that others will want to know what we had for lunch.
If you add in the factors of T.V interactions, Twitter and Facebook and the constant need to "Share", it appears that our lives are in fact fast becoming one big interactive social network.
I recently subscribed to a month's free subscription to Netflix – which streams T.V shows and films to your laptop or console – and it has completely spammed my Facebook timeline, telling my friends what I have recently watched automatically. The account is actually just under my name, so anyone in my house could have watched something, but it'll come up only on my page.
I'm worried that people might start thinking I'm a T.V hog! But I'm more worried about the whereabouts of the box that I never ticked, to allow Netflix to share all this information online.
This could ruin my street cred, which I have carefully constructed through Facebook photos, statuses and tunes on Spotify.
So, where will this information sharing take us, and will it have a "dislike" button in the future?
Holly Sayer is an avid social networker and TV hound. She writes articles for Softel, who are a subtitling company and provider of audio description for interactive TV and sells the whole range of MediaSphere products to ensure your viewing pleasure.
One Reply

Leave a Reply