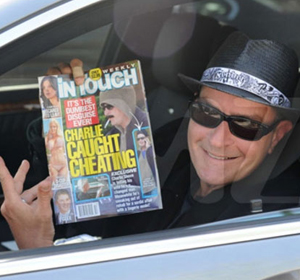 In light of the recent antics of superstar Charlie Sheen, the process of advertising through social media has been put even more in the spotlight. More and more celebrity endorsements are coming to the forefront of social media news as regular people are learning truly how much celebs are making by making a simple post on Twitter about a product or a service.
Celebrities like Kim Kardashian, Lindsay Lohan, New Orleans Saints Drew Brees, Snoop Dog, and Kendra Wilkinson, have been Tweeting promotional endorsements for a number of industries and are getting paid very well for doing so. Companies are now well-aware of the power of the celebrity Tweet. It is instantaneous advertising and it is making a difference.
Celebs are earning tens of thousands of dollars for simply mentioning a product during their daily Tweeting sessions and companies are downgrading their actually print advertising strategies on social media in favor of the instant recognition caused by celebrity plugs.
Even Charlie Sheen joined Twitter to capitalize on the income being earned by promotional Tweets for a variety of products. Sheen generated hundreds of thousands of fans literally overnight and he didn't wait long to start hocking products for a fee – assumingly much needed income since he was just fired.
There seems no immediate end to the social media endorsement deals between the famous and the companies looking to increase visibility. Will Twitter get boring with all the commercial advertising? Probably but most users are still addicted to the drama going on in between the ads to care much anyway.
No Replies
Feel free to leave a reply using the form below!
Leave a Reply