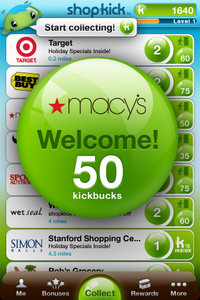 Funded in 2009 by Kleiner Perkins Caufield & Byers (KPCB), as part of its "iFund," in cooperation with Apple, and by Reid Hoffman, Founder of LinkedIn and investor in Facebook, Shopkick has the vision of bridging the mobile and physical retail worlds.
Shopkick's iPhone and Android apps allow store patrons to automatically check in at stores as they walk in, so long as the application is running (and has Internet access), to receive points — called "Kickbucks" — for redeemable rewards.
Application users can accrue even more points by scanning product barcodes in stores from brands such as Kraft Foods and P&G. As of December 2010, some major retailers working with Shopkick are: Macy's, Target, Best Buy, American Eagle and The Sports Authority.
Kickbucks are redeemable for iTunes gift cards, restaurant vouchers, Best Buy/Target/Macy's/American Eagle/Sports Authority gift cards, Facebook Credits, movie tickets, among other options.  Shopkick's approach to location and rewards receives direct competition from Checkpoints which recently partnered with discount retailer Kmart.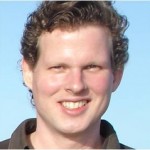 On November 2010, Shopkick's CEO and Co-founder, Cyriac Roeding pointed out at a panel discussion with Yelp's CEO, Jeremy Stoppelman, and SimpleGeo's CEO, Matt Galligan, during the Web 2.0 Conference that Shopkick is riding the great momentum of the success of check-in apps, however he strongly believes that this is just a temporary stage for the location-based services industry.
Roeding believes that the next stage will be further personalization that allows the user not to depend on a mobile device.
Article by Damian Davila, email marketing and web analytics blogger at idaconcpts.com. Follow him at @idaconcpts.
No Replies
Feel free to leave a reply using the form below!
Leave a Reply