Earlier on January 2011, SexySocialMedia reported that Groupon's CEO, 30-year old Andrew Mason declined a $6 billion offer from Google.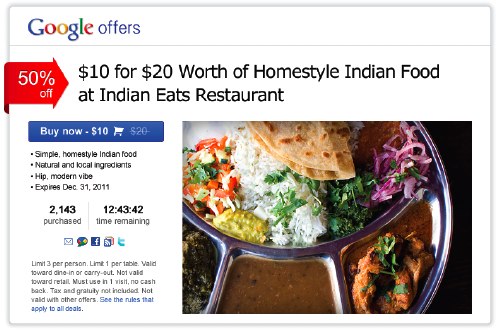 It has been confirmed by several blogs including Mashable that  Google has taken Groupon's snub quite personal and is getting ready to launch a Groupon competitor called Google Offers. Google describes Google Offers as:
A new product to help potential customers and clientele find great deals in their area through a daily email. For businesses, it's a smart and easy way to find new, high-value customers and bring them right to you.
Among the benefits of using Google Offers, the company claims:
Get in front of more potential customers in your city
Bring in both new and valuable customers with great deals
Exposure across Google ad networks at no additional cost
Manage your offer easily with tools to track and measure your ROI
Get paid quickly with no out-of-pocket expense for your business
This move is not a surprise at all, given that Groupon has surpassed the 15 million unique monthly visitor mark this December 2010.
As exciting it may be that Google is jumping on the  group buying bandwagon, there are several questions about what the implications of big Internet businesses promoting big brands are and whether Google would truly be able to stand out from Groupon and LivingSocial.
Here are some screenshots of the steps of how Google Offers works:




Article by Damian Davila, author of 4 Tips for a Successful Email Newsletter. Follow him at @idaconcpts.
4 Replies

Leave a Reply