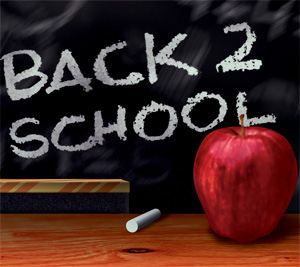 When I was a kid (seems like an eternity ago) – those dog days of August meant only one thing – school was just around the corner.
But instead of the old days when we would go off with our parents to the mall to shop for back to school clothing or page through the latest Sears or JC Penny catalogs, many of today's kids and their parents are turning to social media.
Yes, you knew it would not be too long before companies such as Target and Aeropostale would dedicate time and effort to Facebook, Twitter pages and more social media outlets to get kids and their parents thinking fall wardrobe, not trips to the beach.
Take it to the Bank?
With the U.S. economy mired in a state of malaise, retailers who offer back to school clothing, backpacks and more are banking those sites will help them ring in some big revenues. In turn, parents who generally foot the bill for such purchases can simply sit themselves down online and browse along with their kids the latest fashions and styles.
Aeropostale has a dedicated Facebook page that offers details and images of some of the latest styles that kids may want to adorn this school year.
Viewers to the site can check out among other things, a behind the scenes look at the company's fall photo shoot, featuring the season's hottest jean styles. Another option is telling students to hit the books in style, by pairing a peachy Graphic Tee, with the perfect-wash jeans, along with a striped Tote.
Over at Sears, the company's Twitter page tweets 40% off School Uniforms + EXTRA 15% off Back-to-School Apparel with BACK2SCHOOL 7/31-8/6, while the company's blog notes some must-have and not so necessary items for returning college students.
Target, meantime, brings generations together with its "Cool Never Fades" campaign, highlighting the company's fall 2011 Vintage Varsity collection.
No Parking, no Problem
Making things even more desirable for parents and those students who will actually foot the bill, shoppers can buy directly on a number of these company social media pages, simply adding to their carts in the online store and then proceeding to check out.
Lest you think that this usage of social media is not popular with consumers, a number of these Facebook and Twitter pages have millions of likes, with there likely being more and more to come as consumers turn to the hassle-free advantages of online shopping.
For the companies, the social media campaigns are not that costly when compared to television and newspaper advertisements, with the biggest output being time and effort.
While analysts are not ready to say this kind of retail campaign is guaranteed to be a revenue hit, there doesn't appear to be any evidence to now that companies or consumers for that matter are getting schooled.
Dave Thomas is an expert writer on credit card processing and is based in San Diego, California.  He writes extensively for an online resource that provides expert advice on purchasing and outsourcing decisions for small business owners and entrepreneurs at Resource Nation.
15 Replies

Leave a Reply